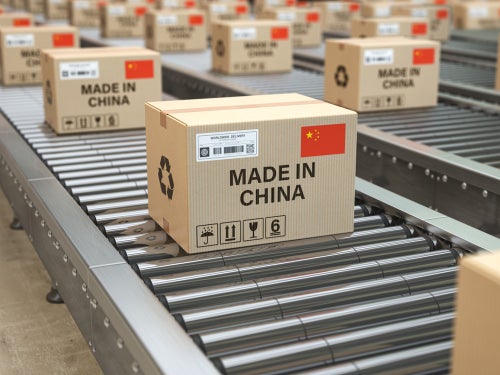 The findings, published by Tradeshift, a cloud-based supply chain payments platform for a number of clients, including apparel, show global supply chain growth remained flat in Q4 2021 despite Omicron, however the slowing of China's supply chains due to lockdowns could still have a knock-on impact for the rest of the world.
The report states: "A spate of lockdowns in key industrial regions across
China could trigger more shortages of crucial manufacturing components and extended order backlogs."
It adds: "Omicron may not have been quite the Grinch that stole Christmas, but don't be surprised if it has a sting in the tail."
The report highlights that disruptions caused in the early stages of the pandemic have shown pressures in one country have significant knock-on effects both up and downstream.
"The coming months could turn out to be critical for supply-chain leaders. Some companies will build upon the momentum they gained during the pandemic, with decisive action to adapt their supply-chain footprint, modernise their technologies, and build their capabilities. Others may slip back, reverting to old ways of working that leave them struggling to compete with their more agile competitors on cost or service, and still vulnerable to shocks and disruptions," Tradeshift CEO and co-founder Christian Lanng says.
China's tough stance on containing the spread of Covid, including factory shutdowns led to a slow down of its trade activity in Q4 2021. China exports to the US were also affected by a bill banning the import of all goods from its Xinjiang region, following claims of forced labour. 
China's Tradeshift index score dropped by 10 points to 86 – the lowest it has been since the beginning of the pandemic.
Tradeshift explains a reading of 100 indicates growth in line with expectation against historical trends, while readings greater than and below 100 indicate above trend and below-trend growth.
The index scores are created by comparing business-to-business transaction volumes (orders processed from buyers and invoices processed from suppliers) submitted via the Tradeshift platform since Q1 2020 against a 'baseline'. The baseline was created by analysing medium-term season trends in its transaction data that flow across its platform.
The report explains that US supply chain activity appears to be largely unaffected by spiking Covid cases as it finished 2021 with an overall index score of 97, which is just 3 points below the level Tradeshift had forecast for the period prior to the pandemic.
The recovery in supply chain activity across the Eurozone however, stalled in Q4 and dropped 8 points compared to its expected range, while UK supply chain activity dropped by 9 points.
Low invoice volumes across almost every region act as a reminder that while fulfilment issues may be easing, suppliers still face significant cash flow and capacity pressures. This will continue to have a knock-on effect on global trade in the quarters to come.
On the plus side, the report suggests that activity across the worldwide transport and logistics sector climbed above the expected range for the first time in six months during Q4, which supports claims that supply chain bottlenecks are beginning to ease.
Lanng concludes: "It might seem madness to make predictions in the middle of a pandemic, but here's one I will hang my hat on. At some point in the next 12 months an event will unleash disruption that will once again test the resilience of global supply chains. Experts now expect a major shock to hit supply chains once every 3.7 years. Heading into a third year of a global pandemic, our index suggests businesses have learned a number of lessons which are enabling them to become better problem solvers in the face of fresh challenges."