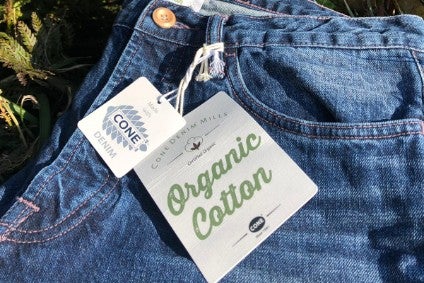 Cone Denim is reaffirming its commitment to responsible manufacturing and ethical
sourcing throughout its global supply chain with the expansion of its partnership with Oritain.
Cone became the first denim mill to offer Oritain's technology last year in a move it says provides the highest level of end-to-end supply chain transparency using forensic science to verify the origin of cotton. The collaboration also acts to confirm with confidence that no cotton fibres used in Cone Denim fabrics are sourced from regions with risk of forced labour, it says.
"Cone Denim has worked aggressively over the past year to fully leverage our access to Oritain technology and increase transparency with our customers related to the origin of cotton used in our products," says Steve Maggard, president Cone Denim. "Traceability and transparency are no longer industry buzzwords, but strong-held values fast becoming the gold standard. Through our partnership with Oritain, we can provide scientific verification of cotton origin as well as periodic audit results that prove our claims to be true and that are admissible in a court of law.
"Accountability is key in Cone's commitment to respecting human rights. We have been taking necessary steps prior to the passing of the Uyghur Forced Labor Prevention Act, and we will continue to lead the industry in these crucial efforts."
The Uyghur Forced Labor Prevention Act, which prevents any materials or goods that have been wholly or partially mined, produced, or manufactured in the Xinjiang region of the People Republic of China from entering the US, was passed by Congress and signed into law by President Biden last month.
Amidst the passing of this important bill, customers can be assured with scientific confidence that Cone Denim products do not contain any cotton from prohibited regions. The brand is proud to have completed more than a year's worth of extensive and conclusive audits using Oritain technology," Cone says.
Through its partnership with Oritain, Cone says it has completed multiple audits showing that all samples analysed across Cone operations in China and Mexico were compliant. Zero samples were identified as coming from a restricted risk area, which were randomly selected by an independent third-party collection agency.
Oritain's unique method combines forensic science and statistics to detect naturally occurring elements in the cotton itself, eliminating the need for additional foreign tracers such as spray or particles. Soil composition and other environmental factors give the cotton an inherent fingerprint specific to each location. Once these 'Origin Fingerprints' have been created, they cannot be tampered with, replicated, or destroyed unlike other traceability systems. Product can be tested at any point in the supply chain to verify origin claims. To date, Oritain has mapped over 90% of the world's cotton.
The supply chain traceability specialist recently teamed up with industrial hemp and hurd company Panda Biotech to develop what they call 'the world's first fully traceable hemp fibre'.