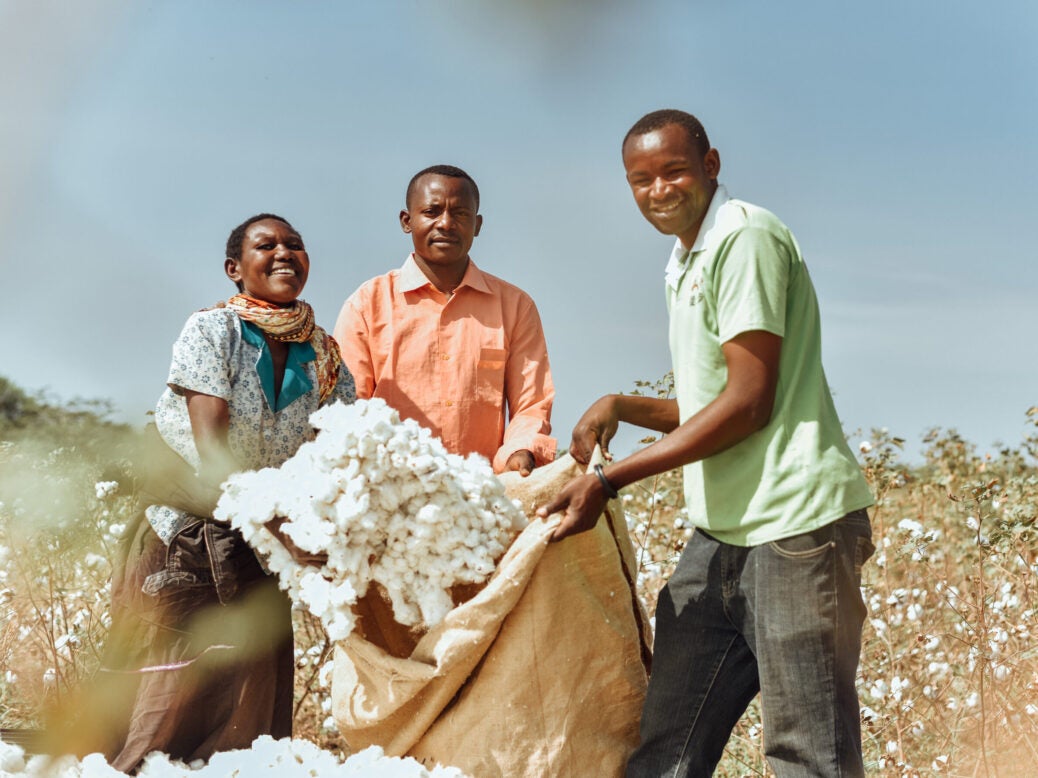 On World Cotton Day (7 October), a recent study for Cotton Made in Africa (CMiA) has shown the positive effects that regular training can have on the lives of small-scale farmers in Africa.
The study also found CMiA, which was launched by the Aid by Trade Foundation, is creating a positive cultural shift in village communities. It found awareness has grown for the importance of education, gender equality, children's rights and health and environmental protection by using better chemical-handling practices.
The organisation points out that challenges are growing around the globe and climate change is exacerbating the social problems faced by small-scale farmers.
The Aid by Trade Foundation (AbTF) is working with African cotton farmers and their families to improve their working and living conditions and to protect the environment.
The impact study was carried out by Syspons, an independent consulting firm, to assess the effect of Cotton made in Africa's activities to date.
The resulting study showed CmiA can improve the lives of the small-scale farmers and their families at many levels, in particular through its training activities.
The CmiA is well-known for its internationally recognised standard for sustainable cotton from Africa and this verification process has proven to be helpful for improving local cotton companies' management abilities and helping them to enforce respect for issues like children's rights, gender equality, and workplace safety.
Tina Stridde, managing director of the Aid by Trade Foundation, said: "In light of the progression of climate change and its implications for small-scale farmers, we will invest more strongly in climate-smart agricultural practices. We are happy that textile companies and brands have displayed steadily greater demand for CmiA-verified cotton in recent years. This enables us to secure financing for these forward-looking projects."
What was the aim of the Cotton Made in Africa study?
The Cotton Made in Africa impact study took place between October 2019 and June 2021 and focussed on assessing the impact of farmer training and the CmiA verification process on the farmers' living conditions.
A tailor-made mixed-methods approach with both qualitative and quantitative elements of data collection and analysis was chosen and Syspons conducted two extensive case studies in Zambia and Côte d'Ivoire, which entailed an analysis of all relevant documents and data, exploratory and in-depth qualitative interviews, a household survey among the cotton farmers, as well as focus group discussions.
In Côte d'Ivoire, the results showed a favourable market environment makes it possible for CmiA's approach to reach its full potential. Combined with a stable cotton price set at the national level, the way the country's cotton industry is structured has a positive effect and ensures the farmers' income and planning stability.
In Zambia, external market forces have reduced the profitability and attractiveness of cotton cultivation for many small-scale farmers in recent years. As a result CmiA's full potential could not be implemented in Zambia, however, CmiA was able to employ its established training mechanisms to reduce the harm done by unfavourable external factors, thereby slowing the further deterioration of the Zambian cotton farmers' situation.
The study also found that small-scale farmers in Zambia who completed at least three training units produced yields around 23% greater than farmers who had not completed any training.