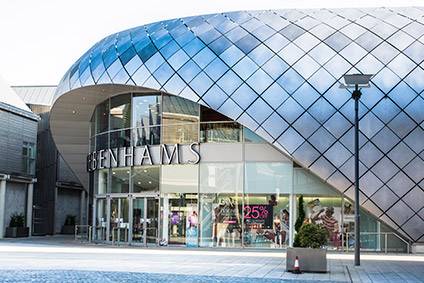 UK department store retailer Debenhams is preparing to file for administration for the second time in a bid to protect the company against claims from creditors during the Covid-19 pandemic.
The retail group this morning (6 April) said it has appointed Geoff Rowley and Alastair Massey of FRP Advisory to advise on what it describes as a "light touch" administration that will see its existing management team remain in place under direct control and supervision of the administrators.
The 242-year-old retailer, which has 22,000 employees, says the move will protect Debenhams from the threat of legal action that could push the business into liquidation while its 142 UK stores remain closed during the UK coronavirus lockdown. The group is making preparations to resume trading in its stores once government restrictions are lifted. The filing of a Notice of Intent (NOI) in the UK is a first necessary step in that process.
Debenhams says the NOI has the support of its lenders and they plan to provide the funding for the administration. The retailer continues to trade online across the UK, Ireland and Denmark, and customer orders, gift cards and returns are being accepted and processed normally.
Payments to suppliers who continue to provide goods and services during the administration will remain unaffected and be paid to terms, Debenhams says.
"These are unprecedented circumstances and we have taken this step to protect our business, our employees, and other important stakeholders, so that we are in a position to resume trading from our stores when Government restrictions are lifted," says CEO Stefaan Vansteenkiste. "We are working with a group of highly supportive owners and lenders and anticipate that additional funding will be made available to bridge us through the current crisis period.
"With their support and working with other key stakeholders, including landlords, pension trustees and business partners, we are striving to protect jobs and reopen as many Debenhams stores for trading as we can, as soon as this is possible."
Debenhams in the Republic of Ireland is affected by the same trading restrictions as the UK and employees have been furloughed under the Irish government scheme. The group's ring-fenced Danish business, Magasin, is also affected by store closures but continues to trade online with the benefit of its modern and highly automated distribution facility.
News of Debenhams' plans to file a notice of intent first emerged on Friday. The retail group first fell into administration in April last year. Shortly after, its new owner, Celine Jersey Topco Limited, launched a company voluntary arrangement (CVA).
There are also reports floral fashion brand Cath Kidston is set to file for administration as the coronavirus pandemic ravages an industry already struggling with high business rates and online competition. The company did not return a request for comment.
Retail giant Arcadia, owner of the Topshop and Miss Selfridge brands, is also believed to be considering plans to walk away from some of its 550 stores. A spokesperson for the group, however, told just-style "no decisions have been taken at this time."
A number of high street retailers have cancelled orders with suppliers and are said to be delaying payments. Primark was widely criticised for cancelling all orders with its suppliers after closing its stores on 22 March. The company, which is losing sales worth GBP650m (US$801m) every month because of the closures, asked suppliers to stop production as it already had some GBP1.6bn of paid-for stock in stores, depots and in transit.
However, the value fashion retailer on Friday said it has now set up a fund to cover the wages component of orders that it cancelled in Bangladesh, Cambodia, India, Myanmar, Pakistan, Sri Lanka and Vietnam because of the coronavirus pandemic.
Meanwhile, Swedish retailer H&M has said it will pay and take delivery of goods already manufactured by its suppliers, as well as those in production; while Spanish fashion giant Inditex, which owns the Zara fashion chain, is to pay its Spanish workers their full salaries until 15 April – including those in its domestic factories.