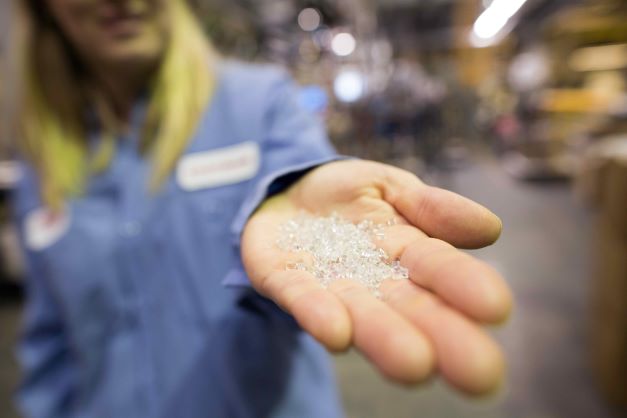 Eastman hopes its proposed plastics recycling facility will accelerate the circular economy by tackling hard-to-recycle plastic waste that is currently being incinerated.
The company's polyester renewal technology, which will be used within the facility, is said to enable the potentially infinite value of materials by keeping them in production, lifecycle after lifecycle. This means the facility will offer true circularity for hard-to-recycle plastic waste that remains in a linear economy.
The technology works by enabling hard-to-recycle waste to be broken down into its molecular building blocks and reassembling the pieces to become first-quality material without any compromise in performance.
The project marks a long-term partnership between France and Eastman will contribute to the EU achieving its sustainability goals, by reducing carbon emissions and enabling a circular economy.
"The plan to build the world's largest plastics recycling facility in France is an important part of our overall circular economy strategy," Eastman CEO Mark Costa says.
"Eastman is proud to partner with the French government to actively contribute to France's and the EU's bold commitments. France has demonstrated its commitment toward a sustainable future and Eastman has set similar, ambitious carbon and circular economy goals."
The multi-phase project will include units that would prepare mixed plastic waste for processing, a methanolysis unit to depolymerise the waste, and polymer lines to create a variety of first-quality materials for specialty, packaging, and textile applications.
Eastman also plans to establish an innovation centre for molecular recycling that it believes would give France a leadership role in the circular economy. The innovation centre would advance alternative recycling methods and applications to curb plastic waste incineration and leave fossil feedstock in the ground. The plant and innovation centre would be expected to be operational by 2025, creating employment for about 350 people and leading to an additional 1,500 indirect jobs in recycling, energy and infrastructure.
French Minister for ecological transition Barbara Pompili, adds: "Accelerating the transition to a circular economy is one of the main challenges in the years to come. Eastman's substantial investment in France demonstrates our country's willingness to embrace innovative technologies that will help us achieve our ecological and economic ambitions, by revolutionising our country's plastics recycling capacities."
Eastman recently joined the US Steering Committee members of Accelerating Circularity Inc, which explores waste collection via chemical and mechanical recycling technologies.