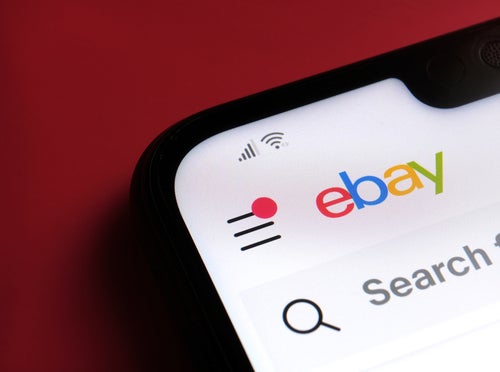 eBay explains Reskinned takes back worn items from shoppers and reconditions them for resale, repurpose or recycling in a bid to keep them out of landfill and extend the item's life.
eBay says the partnership has arrived at a time when UK consumers are looking for ways to save both money and the planet, with the online marketplace seeing one pre-loved fashion sale every second so far in 2022.
The retailer also points out a fifth (20%) of Brits are buying more second-hand fashion compared to two years ago with Gen Z leading the charge.
Items from Reskinned are said to be priced around 40% lower than the high street price, to help shoppers make choices that are good for their wallet and the planet.
The repair specialist already works with over 30 fashion brands, including Finisterre, Sweaty Betty, River Island and Joules.
This new partnership is said to represent an expansion of eBay's offering of preloved clothing to include a wide range of items that have been repaired and made fit for resale. It will also connect Reskinned with the marketplaces' over 20 million shoppers through a 'brand approved' shopfront.
Head of fashion at eBay UK, Jemma Tadd said: "Across the fashion industry we know there is a greater need to build a sustainable future. Since 1995, eBay has extended the life cycle of products, whether through consumer to consumer reselling or now the Imperfects hub, so it's fantastic to partner with Reskinned, who are at the forefront of empowering the circular fashion economy.
"Pairing eBay's reach to conscious customers, with Reskinned's expertise in garment repair, resale and recycling will help extend the lifecycle of products, reduce waste and showcase the variety of routes into a kinder way to shop for the shopper's wallet and the planet."
Reskinned's co-founder Matt Hanrahan adds: "At Reskinned it's our mission to maximise the lifespan of clothing. We're making it easy for brands and their customers to rehome unwanted clothes, whether that's reselling, repairing or if its end of life recycling it responsibly. We're determined to create a more sustainable clothing future for us all.
"Through this partnership with eBay, the original home of preloved, we hope to increase our reach and offering of our brand partners, ensuring preloved items find new owners, and realise a more sustainable fashion future."
eBay's global 2022 Recommerce Report revealed that while financial reasons remain the primary motivator, 42% of eBay buyer respondents also cited environmental concerns and a hope to reduce waste.
This is the latest move by eBay as part of its ongoing efforts to reduce fashion from being sent to landfill, with the partnership building on the launch of eBay's 'Imperfects' Hub which launched earlier this year. It aims to give shoppers the chance to get clothes, shoes and accessories which are considered new with defects but can't be sold at full price; and Brand Outlet, which houses end-of-season stock at up to 70% off.  
In May UK television show, Love Island, announced eBay was sponsoring this year's series as opposed to a fast fashion brand, which experts told Just Style at the time reinforced the changing attitudes towards purchasing secondhand.