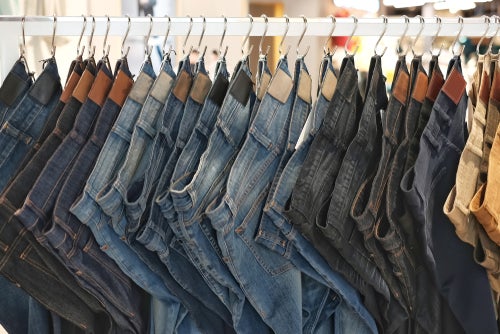 This new eco-friendly indigo dyeing technology also streamlines the dyeing process for jeans and secures more colour in the jeans than traditional methods.
Sergiy Minko, an author of the study and the Georgia Power Professor of Fiber and Polymer Science at the University of Georgia's College of Family and Consumer Sciences said: "The textile industry is a classic example of an environmental polluter and one of the major causes of pollution in the industry is colouration."
The scientists' new method of dyeing, which was published in the journal Green Chemistry, uses natural indigo to completely eliminate the use of harmful chemicals used in conventional methods. It also requires only one coat of the indigo to secure over 90% of the colour, which significantly reduces the amount of water needed to dye the fabric.
Natural indigo was used to dye textiles in the US in the 1700s. The discovery of a way to produce synthetic indigo, however, almost entirely wiped the natural indigo market off the map.
Indigo isn't water soluble and has to be reduced with toxic chemicals prior to using it to dye clothing.
As a result, the denim industry uses more than 45,000 tons of synthetic indigo a year, along with over 84,000 tons of sodium hydrosulphite as a reducing agent and 53,000 tons of lye.
It takes between 50 to 100 litres of water, which is filled with toxic chemicals to dye one pair of jeans.
The University of Georgia scientists explain there are regulations for US plants to purify that wastewater, however the industry released it into the environment for decades, corroding sewage pipes on its way to rivers and the ocean.
Conventional methods require up to eight dips in dye solution and secure only 70% to 80%.
How does this new indigo dyeing eco-friendly technology work?
This new method is said to keep the comfort of the jeans the same with the same levels of thickness, weight gain and flexibility in the fabric. The streamlined process saves workers time and energy by eliminating the need for multiple dips and oxidation time between each dip.
Minko explains:  "You don't reduce the indigo in this process; you don't dissolve it. You simply mix it with nanocellulose fibrils and deposit it on the surface of the textile. And you can change the shade of blue by the amount of indigo particles added in the mixture."
Nanocellulose consists of wood pulp and the new technology mixes indigo particles with the nanofibres and then deposits them on the surface of the textile to "glue" the colour in place.
The scientists' new technology still needs to be commercialised, however the authors of the study believe it's a viable option for making the denim industry more sustainable.
"Denim and jeans manufacturing are a big market, so even small changes in the industry could have huge impacts," says Minko.
He adds: "There are populations that are looking for products that are made in environmentally friendly ways. And as regulations become tougher, the industry will have to adapt."