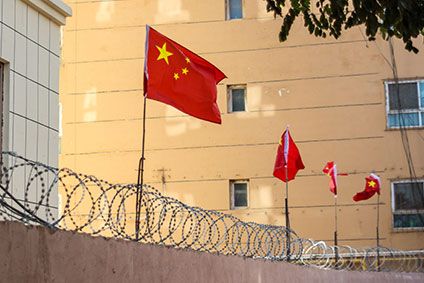 The Ethical Trade Initiative (ETI) is urging all businesses to take extra steps to ensure their supply chains are not linked with the Xinjiang Autonomous Region (XUAR), adding audits conducted within the region "cannot be relied upon" and it can be presumed forced labour is at high risk of occurring within any workplace in the region.
ETI is an alliance of companies, trade unions and NGOs that promotes respect for workers' rights around the globe. Its vision is a world where all workers are free from exploitation and discrimination, and enjoy conditions of freedom, security and equity.
The organisation has published a position statement on the issue of Uyghur forced labour, which updates and replaces an earlier version published in June of last year.
ETI says while many businesses have already taken important steps to map their supply chains and prevent or mitigate risks of forced labour wherever they can, there are significant challenges to conducting meaningful human rights due diligence on the issue. Due to these limitations, all businesses should take extra steps to ensure their supply chains are not linked in any way with the XUAR, it says.
The organisation notes it supports a Call to Action roadmap issued by the Coalition to End Forced Labour in the Uyghur Region for businesses to ensure they are not linked to XUAR. The Call to Action was signed by Marks & Spencer in January.
"We encourage all businesses to engage with the Coalition to learn how they can proceed on this issue. This offers the benefits of being able to engage directly with Uyghur community representatives, thereby developing a more informed understanding of the issues, and of joining a number of businesses who have signed up to maximise the collective leverage for change."
It adds businesses should augment their normal auditing practices with surveys of local media coverage and local government documents that may identify particular suppliers making use of the labour transfer scheme. And that businesses should seek to engage with specialist organisations that can facilitate access to the information.
At the end of last year, a report from the Center for Global Policy said it had seen government documents that showed the three majority Uyghur regions in Xinjiang sent at least 570,000 people to pick cotton as part of a state-run coercive labour transfer scheme in 2018. But researchers for the report estimate the total number involved in coercive cotton picking in Xinjiang exceeds that figure by several hundred thousand.
Meanwhile, ETI notes while it welcomes recent statements from the UK government surrounding the issue, "more must be done."
Specifically, it called on the Government to:
Publish comprehensive guidance for businesses on the risks of Uyghur forced labour linked to their supply chains, building on the initial guidance they have set out;
Support businesses and auditing bodies to access information that can support their human rights due diligence.
Last week, UN human rights experts raised serious concerns about the alleged detention and forced labour of Muslim Uyghurs in China and called for unhindered access to the country to conduct fact-finding missions as well as urging global and domestic companies to closely scrutinise their supply chains.
Global fashion brands were also urged not to trade their human rights principles for market access, despite facing a barrage of commercial retaliation in China over their statements against the use of forced Uyghur labour.