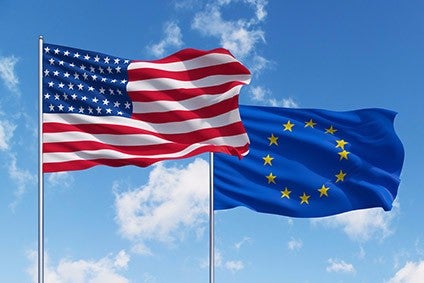 The US has expressed its disappointment that the European Union has decided to proceed with tariffs on US$4bn of US imports every year.
In a statement yesterday (9 November), the European Commission said the countermeasures have been agreed by EU member states since the US has not yet provided the basis for a negotiated settlement, which would include an immediate removal of US tariffs on EU exports in the Airbus World Trade Organization (WTO) case.
Apparel items are currently not on the list, which includes handbags and travel bags, as well as cotton and cotton waste.
Back in 2018, in retaliation against US tariffs on EU steel and aluminium, the EU side imposed 25% punitive tariffs on US$7.5bn worth of US products, including jeans. These duties are still in place today.
The Commission says the countermeasures bring the EU on equal footing with the US, with sizeable tariffs on each side based on two WTO decisions related to aircraft subsidies.
"We have made clear all along that we want to settle this long-running issue," said Valdis Dombrovskis, executive vice-president for an Economy that Works for People and commissioner for trade. "Regrettably, due to lack of progress with the US, we had no other choice but to impose these countermeasures. The EU is consequently exercising its legal rights under the WTO's recent decision. We call on the US to agree to both sides dropping existing countermeasures with immediate effect, so we can quickly put this behind us. Removing these tariffs is a win-win for both sides, especially with the pandemic wreaking havoc on our economies. We now have an opportunity to reboot our transatlantic cooperation and work together towards our shared goals."
A group of 13 European associations representing sectors threatened or hit by potential US tariffs – including the European Apparel and Textile Confederation (Euratex) – is calling on the EU and US to de-escalate the disputes.
Instead, they want the two sides to work on a negotiated solution and stop targeting sectors that are not directly related to the aircraft subsidies.
In a statement yesterday, United States Trade Representative Robert Lighthizer, said: "The United States is disappointed by the action taken by the EU today. The alleged subsidy to Boeing was repealed seven months ago. The EU has long proclaimed its commitment to following WTO rules, but today's announcement shows they do so only when convenient to them."