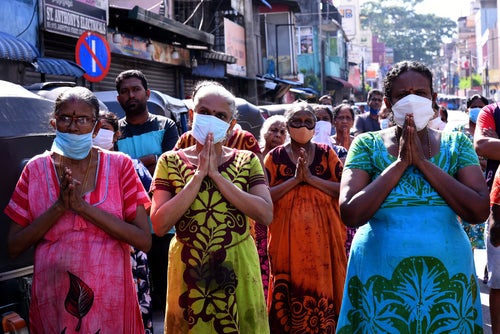 Sri Lanka's prime minister Ranil Wickremesinghe said the country is 'bankrupt' according to a report by news publication CNN, following the country's financial crisis that has led to fuel shortages and extortionate prices for food and medicine.
The country is said to be battling its worst economic crisis in 70 years, however Yohan Lawrence, secretary-general of the Joint Apparel Association Sri Lanka tells Just Style: "Despite unprecedented domestic volatility, unstable global market conditions and escalating raw material and logistics costs, Sri Lankan apparel exports generated US$446m in May 2022, which is almost a 30% year-on-year increase from May 2021. The industry is also hopeful of achieving its US$6bn target by the end of 2022."
Global Data's sourcing analyst Louise Deglise-Favre tells Just Style there is a risk that international garment sector partners could pull out and redirect their sourcing strategies towards neighbouring sourcing hotspots, such as Bangladesh and India.
She says if international apparel brands and partners pull away it could be devastating for the apparel industry.
However, Lawrence is keen to tell manufacturers that the apparel sector's immediate priority is to ensure the timely delivery of products to buyers.
How can Sri Lanka's apparel sector help the country tackle bankruptcy?
Deglise-Favre hopes manufacturers will stay loyal to Sri Lanka and will input investments into the country but she says it will depend on their goodwill and commitment to working with their partners and how much it will cost them.
Some apparel manufacturers are already demonstrating their loyalty to the country. For example, in April the president of Italian fashion group Calzedonia, said he had faith in the resilience of Sri Lanka's apparel industry and planned to increase sourcing from the South Asian island nation.
Deglise-Favre points out that declaring Sri Lanka as officially bankrupt will make it challenging for the country to get funding from the International Monetary Fund (IMF), and this will only increase the need to focus on the strength of the apparel sector moving forward.
She is quick to add the lack of fuel within the country could make it challenging for the apparel sector to deliver its shipments on-time, which could prompt partners to move elsewhere.
She says: "Depending on how the apparel industry manages to navigate the crisis, it could be a good sector for the country to lean on for growth."
Lawrence remains confident in the resilience of the apparel sector and says: "Sri Lanka's apparel industry has always been resilient through adversities like the pandemic and now the economic meltdown. The apparel sector is also playing an important role in supporting the national economy during this time including direct surrender of export proceeds to the Government, which is then used for essential imports such as fuel, gas, food and medicine."