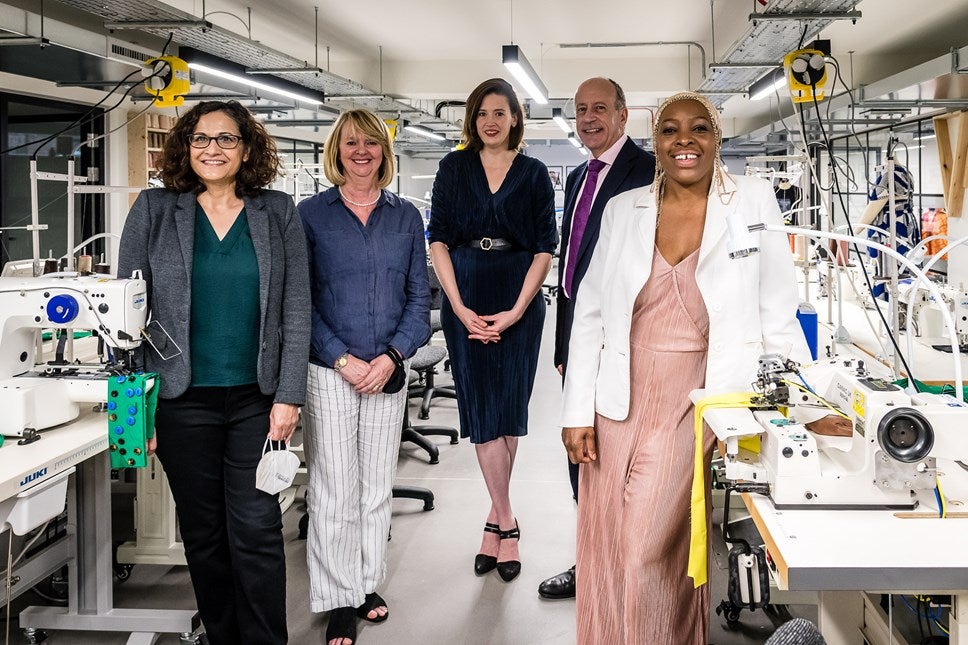 The new FC Designer Workspace, which was opened by Fashion-Enter and Islington Council this week, offers workshop, exhibition, and training space for local designers, an in-house photography studio, as well as mentoring and masterclasses from industry experts, and the chance to network with like-minded entrepreneurs.
It has been converted from disused garages on the Andover Estate and fitted out with the latest industry-grade sewing machines and equipment.
The workspaces are said to have already proved popular with local designer-makers, including those who sell their products in the FC Designer Collective shop in nearby Fonthill Road – the dedicated high street retail site that opened last year, and the first milestone of the partnership between Islington Council, local communities and garment industry co-operative Fashion-Enter.
Both the shop and the affordable workspace were co-funded by the council and the Mayor of London's Good Growth Fund. Launched in 2017 and delivered in partnership with the London Economic Action Partnership (LEAP), The Good Growth Fund seeks to make London fairer and more inclusive by strengthening civic networks at local level, encouraging innovation and supporting great design.
The FC Designer Workspace is said to offer a step-change in the council's programme to provide affordable workspaces and effective support to nurture local talent in different sectors of industry, helping communities to create their own wealth, new jobs, and more sustainable futures.
One beneficiary is Jannaty, a local sewing group run for the last 32 years by designer-maker Majida Sayam. She will train ten local women to use the factory-grade sewing and garment-making machines at the workspace.
As well as learning new skills, the women in Jannaty will upcycle unwanted, surplus, and damaged clothing, curtains, and bedding to create new clothes, cushions and bags for sale, keeping textiles out of landfill. The group will also produce 2,000 reusable canvas shopping bags for Islington's food banks.
"In 35 years of working in the fashion sector, I have never been involved in such an innovative, circular, sustainable fashion programme," says Jenny Holloway, chief executive of Fashion-Enter.
"The creatives of Islington now have the opportunity to upskill, design, manufacture and sell their brands all within a one-mile radius within Islington. The team at Fashion-Enter is on-hand to fully support them every step of the way."
Jules Pipe, London's deputy mayor for planning, regeneration and skills, adds: "This Good Growth Fund project creates long-term affordable workspaces that bring vibrancy and opportunity into the heart of the local high street.
"It is a great example of how the Mayor's investment can support collaboration between communities, local government, high street landlords and operators to help people develop new skills and grow new businesses."
Earlier this summer, Fashion-Enter announced plans to showcase a sustainable micro-factory concept that uses the latest technology and advanced workflow processes through a partnership with Zund UK.