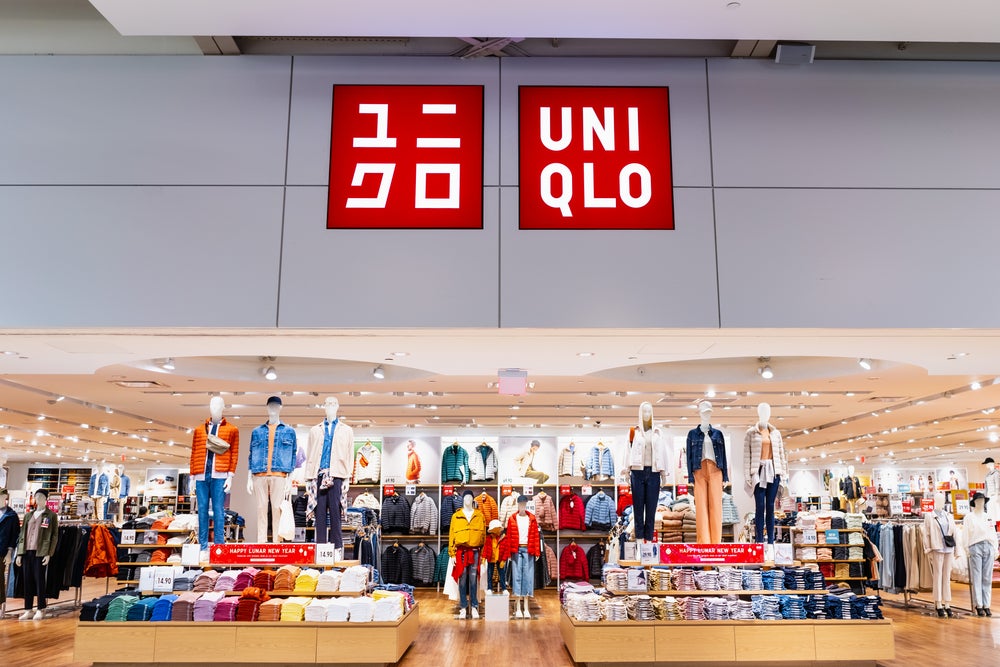 Japan-based Fast Retailing booked an 8.4% increase in pre-tax profit to JPY230.4bn (US$1.7bn) with profit attributable to owners of the parent company up 4.5% to JPY153.3bn.
"This record performance is proof that the policies we started putting in place last year are steadily bearing fruit, including our determination to diversify global earnings pillars, strengthen our branding, conduct business that focuses on meeting customer needs and conveying product value, and actively accelerate new store openings," Fast Retailing said in a statement detailing the six-month performance.
"The Fast Retailing Group is determined to strengthen initiatives designed to expand our business operations and promote sustainability in an integrated and united manner in order to become a global number one brand by focusing on: creating customer oriented products, accelerating global store openings, building purchasing experiences that fuse physical stores and ecommerce, and helping to solve various environmental and social issues," the group added.
"We will continue to pursue our ultimate goals of creating high-quality, long-lasting clothes, clothes with a low environmental impact that are produced in healthy and safe working environments, and clothes that can be further circulated, even after purchase, through recycling and reuse."
Business results by segment
Uniqlo Japan
Uniqlo Japan reported a considerable increase in revenue in the first half of fiscal 2023. However, profits declined as the depreciation in the Japanese yen resulted in higher cost of sales. As a result, first-half revenue totalled JPY495.1bn (+11.9% year-on-year) and first-half operating profit totalled JPY67.3bn(−1.6% year-on-year). First-half same-store sales increased by 10.0% year-on-year.
Uniqlo International
Uniqlo International reported a significant increase in both revenue and profit in the first half of fiscal 2023, with revenue rising to 755.2bn yen (+27.3% year-on-year) and operating profit expanding to 122.6bn yen (+22.2% year-on-year). Large increases In both revenue and profit were seen at Uniqlo operations in the Southeast Asia, India & Australia, North America, and Europe (ex. Russia), as these regions start to enter a genuine growth phase.
"The strong overall performance by Uniqlo International can be attributed to the fact that rapid changes in clothing demand over the past few years in the face of the pandemic and rising inflation have fuelled consumer appetite for LifeWear, our high-quality and long-lasting basic everyday clothing. Our aggressive efforts to consistently expand business by strengthening our branding and pursuing community-based commercial operations also supported the segment's strong first-half results."
Gu
The Gu business segment reported large increases in both revenue and profit in the first half of fiscal 2023, with revenue rising to JPY145.5bn (+18.5% year-on-year) and operating profit totalling JPY13.0bn (+39.2% year-on-year). GU same-store sales rose significantly in the first half based on a strategy win that involved successfully narrowing down the number of product numbers on offer and ensuring a sufficient supply of mass-trend products.
Global Brands
The Global Brands segment reported a large rise in revenue but a decline in profit in the first half of fiscal 2023, with revenue rising to JPY70.2bn (+19.1% year-on-year) and an operating profit contracting to JPY0.1bn (−85.3% year-on-year).
Fast Retailing supply chain update
Fast Retailing indicated that it is continually improving efforts to address human rights and labour issues throughout its entire supply chain.
At the end of last month, it was reported to be ending production in Myanmar on the back of human rights and labour concerns, and difficulty overseeing operations in the now military-run country.
"At garment factories and fabric mills, we are performing clear checks on the labour environment and other conditions by ourselves or through third-party organisations. In addition, from spring 2023, we have concluded a Code of Conduct with upstream textile mills in our supply chain to ensure regular labour environment audits are conducted and confirm traceability information