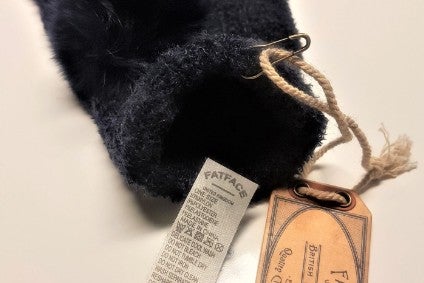 FatFace, Romwe, Tesco, and Boots are among the latest British retailers to have been found mis-selling clothes and footwear containing real fur falsely advertised as fake fur, an ongoing investigation has revealed.
In December, furs from fox, rabbit, chinchilla and mink were found in items such as hats, shoes, scarves, and coats sold by retailers including Not on the High Street and Miss Bardo, following an investigation by Sky News and Humane Society International (HSI) UK. The items were all advertised as containing faux fur.
A further investigation between HSI and The Mail on Sunday has since found more retailers doing the same. FatFace was found to be selling GBP18 (US$25) chenille gloves with a real rabbit fur pom-pom advertised as faux fur.
Boots was selling GBP3.99 hair clips advertised as faux fur, which when lab tested by HSI UK, turned out to be mink fur. While online fashion site Romwe was selling mislabelled fox fur shoes and a rabbit fur bobble hat, both wrongly described as faux fur.
"Tesco, FatFace, Boots and Romwe are all companies with commendable no-fur policies, so it is very disappointing to find that real animal fur has slipped into their stores described as faux fur," says Claire Bass, executive director of Humane Society International UK. "Most British consumers want nothing to do with the cruel fur trade so it is vital that retailers improve their vigilance to ensure their customers are not being misled into buying real fur.
"It is simply unacceptable that compassionate consumers are unknowingly spending their money on the very cruelty that they are trying to avoid, fur from foxes, raccoon dogs, mink and rabbits who have suffered lives of confinement in barren wire cages, and excruciating deaths through electrocution or gassing."
Many of the mislabelled items that HSI UK finds are fur trim and accessories such as bobble hats, keychains, scarves and shoes. The items, the group says, have deceptively low price points.
Bass says stricter fur labelling laws are urgently needed, but that ultimately "animal fur has no future in British shops and wardrobes". HSI is calling on the government to use Brexit to ban all fur imports into Britain, closing its borders to what it says is a "revolting, outdated and unnecessary trade".
The UK banned fur farming in 2000. According to HSI, there is no legal requirement to use the specific word "fur" on items containing real fur. EU regulations do require items defined as "textile products" to carry the wording "contains non-textile parts of animal origin" but as well as not clearly telling consumers it means "real animal fur", in practice this wording requirement is rarely adhered to at all, it says.
And the vast majority of the British public are against wearing fur. A 2016 YouGov poll showed nine out of ten Brits believe it is unacceptable to buy and sell real fur, averaged across nine species.
"HSI is campaigning for the British Government to make the UK a fur-free zone by extending the cat, dog and seal fur bans to include all fur-bearing species," it says. "As a member of the EU single market, under rules relating to free movement of goods, the UK is not currently at liberty to ban the import of animal fur, which is farmed in several European countries. But Brexit could give the government the freedom to adopt policies that reflect the public's distaste for all fur and close our borders fully to this cruel and outdated trade."
Tesco, Boots and FatFace did not return a request for comment at the time of going to press, while Romwe could not be reached.