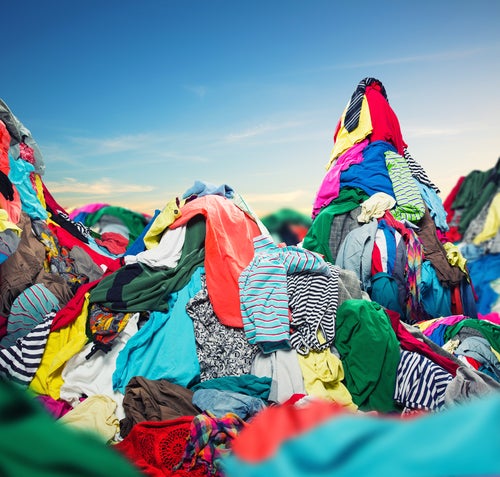 Launching the Scaling textile recycling in Europe—turning waste into value report, co-author Nikolei Langguth, explained during a webinar yesterday (15 July), that he is confident about the predicted figure for the amount of textile and apparel waste that could be fibre-to-fibre recycled in Europe by 2030, despite only less than 1% currently being recycled in this way.
He explained the prediction was reached by combining a number of factors. It involved mapping the fibre composition observed in the waste stream, looking at the percentage of different fibres and materials and analysing half a million products to work out the feedstock buckets. The team also looked at the forward-looking requirements for fibre and overlaid all of these outcomes to calculate the percentage that could be turned into a fibre and go back into a product.
The report notes the remaining 30% that can't be fibre-to-fibre recycled by 2030 will require open-loop recycling or other solutions like producing syngas through thermo-chemical recycling.
Waste provides new potential for Europe's apparel industry
The team behind the report worked closely with Euratex on the Rehubs initiative which aims to establish five recycling hubs in Europe, and believe significant transformation lies ahead that could create a large and sustainable new industry in the region that turns waste into value.
The report explains: "One of the most sustainable and scalable levers available is fibre-to-fibre recycling — turning textile waste into new fibres that are then used to create new clothes or other textile products."
At the webinar co-author and McKinsey senior partner Karl-Hendrik Magnus made the point that significant investment and huge infrastructure will be needed to reach this goal and the entire value chain, including textile collection, sorting, and recycling will all require investments to reach scale.
Langguth agreed and said: "By 2030 we're looking at 150-250 facilities that will need to be built alone," plus he said building these facilities will require about EUR6-7bn of investment, and most will be needed for the latter stages of the value chain.
However, the report suggests that once this new industry has matured and scaled to become self-standing it could have a profit pool of between EUR1.5bn and EUR2.2bn by 2030.
Plus, the textile recycling value chain could create what the report describes as a new, valuable raw material that would enable more apparel production in Europe, which could lead to additional value creation above what is quantified in this report.
Report co-author Jonatan Janmark believes once the infrastructure is in place there is huge potential for nearshoring. He said: "This new resource in Europe is an opportunity to nearshore a big part of the value chain," and added recycling is best placed close to where the waste is created and transportation is much more efficient after recycling and not before.
He also noted: If we scale this up in Europe it will give us a new valuable material close to home that could be spun into fibres."
Beyond the economic benefit, the report suggests scaling textile recycling will unlock several environmental and social benefits. For example, using the report's base-case scenario of 18% of gross textile waste being fibre-to-fibre recycled by 2030, it could lead to the creation of 15,000 new jobs and CO2 emissions could be reduced by approximately 4m tonnes.
It also points out that by quantifying into monetary terms several other impact dimensions like the secondary effects to GDP from job creation and CO2 emission reduction and water and land-use reduction, the industry could reach EUR3.5-EUR.4.5bn in total annual holistic impact by 2030. The provides an annual holistic impact return on investment of 55% to 70%.
The five ingredients for success
The report explains that collaboration and innovation will be key to capturing this opportunity. It states the bottlenecks preventing scale are significant and will require several stakeholders to act boldly. In fact, it says: "Textile recycling in Europe will not reach a favourable state by 2030 unless major action is taken quickly."
Critical scale: The textile recycling value chain cannot function at small scale. Critical scale across the value chain is required to provide sufficient feedstock to the necessary fibre-to-fibre recycling technologies and to allow for those recycling technologies to operate at scale. Therefore, the industry must set bold scaling targets and meet them.
Real collaboration: Several of the main challenges ahead are best solved in a highly collaborative manner. Business leaders across the value chain, investors, and leaders of public institutions would need to come together in an unprecedented way to engage in a highly operational joint effort to overcome the barriers to scale.
Transition funding: Although our analysis indicates that the textiles recycling industry could—once it has matured and scaled — become self-standing and profitable, transition funding will be needed in the near term. Examples of such funding include subsidies (potentially Extended Producer Responsibility [EPR] funding) and a green premium (potentially shared by brands and consumers). Public– private solutions may be needed.
Investments: Several parts of the value chain must be built out almost from scratch, which requires significant capital expenditure. Our analysis indicates that sufficient economic value can be realized to make up for the required risk. Private investors would lead this journey by taking initiative to finance building out the value chain.
Public-sector push: Leaders of public-sector institutions would have to help drive textile recycling. Measures include driving up collection rates, limiting the export of unsorted textile waste, engaging in demand stimulation, creating harmonised frameworks for increased circularity, as well as other initiatives.
Turning textile waste into a new resource is a huge opportunity for the apparel sector.
In the past, a consortium issued a call to action for brands and retailers, waste collectors and recyclers as part of its vision to prove the feasibility of textile-to-textile circular system, adding it must become the industry's new raw material.
And just last month, the European Apparel and Textile Confederation (Euratex) says it plans to pursue fibre-to-fibre recycling for 2.5m tonnes of textile waste by 2030 through its ReHubs initiative.