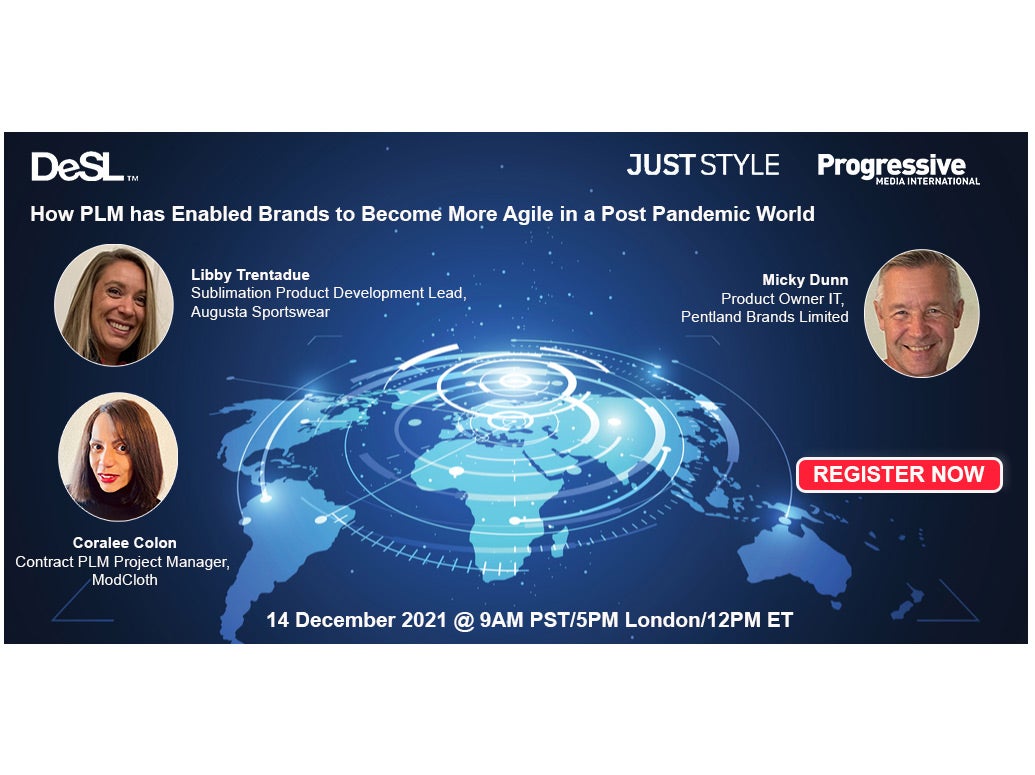 If you want to discover how to use Product Lifecycle Management (PLM) to make your business more agile in a post-pandemic world, you won't want to miss this free Just Style webinar.
Click here to register for free now.
The webinar will be moderated by Just Style's managing editor and will feature a panel of expert speakers from the apparel industry who will debate and discuss the key issues affecting their businesses right now, including: 
How has the global pandemic changed the way the fashion industry manages product development?
What can you learn about how others have pivoted?
What role does PLM play moving forward?
How are supply chain issues affecting you and your wider business and what changes have you made to deal with them?
What is your wider sustainability strategy and how are you using PLM to achieve your goals?
The free one-hour session is sponsored by DeSL, which uses an integrated end-to-end PLM to provide the latest digital transformation solutions for the retail, fashion, apparel and footwear sectors.
Pam Peale, DeSL vice president of global sales and US PLM operations, says the free session is a chance to bring industry experts together to share experiences and knowledge. She explains:
"We all know the pandemic has shaken up the fashion industry, but some good has also come about. Brands that have evolved and adapted to the changes are succeeding. Modcloth, Pentland, and Augusta Sportswear are stronger because of the choices they have made to adopt technology."
Meet the expert panel
Micky Dunn: product owner IT, Pentland Brands Limited
Micky's experience at Pentland has been focused on supporting PLM and surrounding solutions and their users. His primary responsibilities are with PLM and Product Information Management (PIM), but he is responsible for cross-system product information including ERP, Planning, warehouse management / duty management, and reporting.
Coralee Colon:  owner Sa-an Consulting LLC and contract PLM project manager, ModCloth
With over 25 years in the industry, Cora is an expert in managing the complexities of a diverse supply chain. In her time with ModCloth, she has lead the implementation of PLM and other solutions to streamline processes throughout design, development and production.
Libby Trentadue: sublimation product development lead, Augusta Sportswear
Libby is a passionate, innovative Product Development Manager with over ten years of experience in design, development, merchandising, and sourcing of unique and innovative products. She has a proven track record of executing multiple projects with a strong sense of logic and curiosity to find a better way.