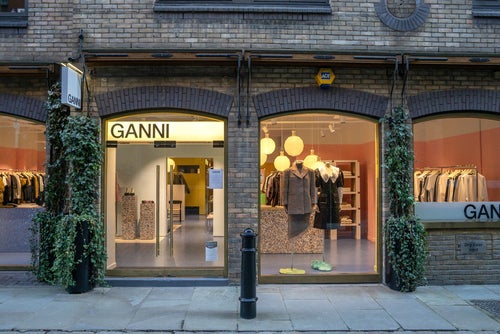 L Catterton, which announced its definitive agreement to make a strategic investment in Ganni in December 2017, is allegedly selling the contemporary fashion company, according to a report by Reuters.
Ganni declined to comment when approached by Just Style on the Reuters report which claimed the firm has hired investment bank Lazard to organise the sales process with Chinese buyers already taking an interest. It also suggests that non-binding bids will be due by 25 July.
L Catterton had not responded to Just Style's request for comment at the time of going to press.
L Catterton took the majority stake in the company in 2017 and Ganni's CEO Nicolaj Reffstrup explained at the time the aim was to build on the solid foundations that were already in place.
He said: "This comes exactly at the right time for Ganni and will drive us forward in the next few years as we'll get access to the knowledge and network of both L Catterton and LVMH. Ganni attracted a lot of interest from various investment firms, but we chose L Catterton as we felt we share the same vision for the brand. We firmly believe that L Catterton will strengthen our business with their unparalleled expertise in brand building and their deep understanding of how a global fashion brand operates."
Eduardo Velasco, partner of L Catterton, said at the time he was thrilled to partner with Ganni and its management team and believed its 'sound digital strategy' made it ideally placed to continue its impressive international growth story.
Ganni was founded in Copenhagen, Denmark 22 years ago and describes itself as a contemporary fashion brand that offers women's ready-to-wear clothing. The brand also prides itself on having significant digital exposure and a unique style that is embraced by its loyal customer base.
In May last year Ganni announced it was tapping into radio-frequency identification (RFID) to achieve full inventory visibility. The brand explained the first step of the deployment was to achieve full stock visibility in store, which would lead to optimised item availability and efficiency gains.