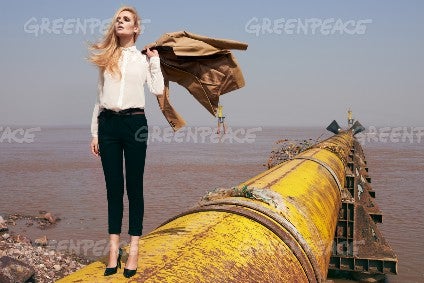 Environmental activist group Greenpeace is working with selected suppliers to trial a new Global Textile Procurement standard to see if it is possible to produce products such as T-shirts that are free from hazardous chemicals in line with its Detox requirements.
The group's Detox campaign, which was launched in 2011, is one of the apparel industry's most ambitious initiatives, and aims to eliminate the use and discharge of hazardous chemicals from the textile supply chain by 2020.
However, in 2012 Greenpeace's own merchandise was found to contain hazardous chemicals, prompting the organisation to suspend the sale or gifting of textile products "until brands and suppliers can prove through transparent reporting that their clothes were not made using and releasing hazardous chemicals."
It now says there has been significant progress by Detox committed brands – which number around 80 companies, representing about 15% of the market – to transform the sector, including developments in third party auditing.
A pilot project started last year 2018 is now being rolled out into a new standard, which Greenpeace will be trialling in the production of its own T-shirts, bags and other merchandise for sale to the public or for gifting.
"Our standard reflects the best overall practice in the market for detecting and eliminating the use and discharge of hazardous chemicals, resulting from the Detox campaign," the group says. "It uses the best third party tools and standards that are now available for textiles manufacturing facilities to address hazardous chemicals and ensures full supply chain transparency."
However, a suspension remains on textile products such as uniforms used by Greenpeace internally, by volunteers, activists, crew or staff within the organisation or onboard Greenpeace ships.
The new standard applies only to natural fibre based textile products, and forbids the intentional use of hazardous chemicals in all steps of the manufacturing process, including printing and chemical finishing (for dirt or water repellency).
Suppliers have to provide transparency of the manufacturing supply chain, including verification of wastewater discharges and facilities; and verification of the raw materials and the final product. They also have to provide the names and locations of all subcontractors, and identify wet process supplier facilities by completing a supply chain transparency form or providing an interactive map of supply chain.
Other requirements for contracted suppliers are to explain how contamination of the textile products with hazardous chemicals as a result of transport or storage will be prevented; and not to use PVC materials or biocides during transport or storage.
The standard also specifies the use of tools and certifications provided by Oeko-Tex – specifically the Detox to Zero by Oeko-Tex – GOTs (the Global Organic Textiles Standard) and Fairtrade.
The full 2019 Greenpeace Global Textile Procurement Trial Standard can be found here.