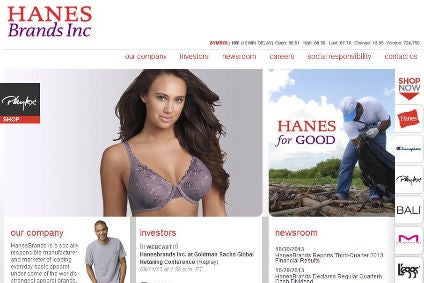 HanesBrands, one of the world's largest underwear and activewear apparel manufacturers, has hailed 2017 as a "successful" year and announced an agreement to acquire Australian speciality intimate apparel seller Bras N Things for about US$400m.
In the three months ended 30 December, the company reported a net loss of US$384.6m, compared to a profit of $157.1m a year earlier. However, the North Carolina-based company said it took a $457m charge in the fourth quarter related to US federal income tax reform.
Net sales were up 4.4% to $1.65bn from $1.58bn in the year-ago period, while innerwear sales increased 1% in the fourth quarter, driven by strong men's and children's underwear growth. Activewear sales were up 9%.
International sales increased 8% to $545.3m. The former direct to consumer segment, which consisted of Hanes' US value-based ("outlet") stores, legacy catalogue business and US retail internet operations, was eliminated. The company's US retail internet operations, which sells products directly to consumers, is now reported in the respective innerwear and activewear segments.
Meanwhile, fourth-quarter online sales increased globally by 22%, up in every geography and representing 1% of total sales.
For the full year, net income dropped 88.5% to $61.89m from $539.4m, while net revenues were up 7.4% to $6.47bn, compared to $6.03bn last year. During the year, both innerwear and activewear sales fell 3%, while international sales rose 34%.
The online channel, including company websites and traditional retailer websites, accounted for 9% of total sales for the full year.
"2017 was a successful year during which we focused on diversifying our business to be able to consistently deliver annual topline growth," said Hanes CEO Gerald Evans Jr. "We rebounded to achieve organic growth in the third and fourth quarters, including fourth-quarter organic growth for each of the innerwear, activewear and international segments. We have additional work to do, including addressing inflationary and short-term cost pressures, but our brands are strong, our key market shares are increasing, our international businesses are sizable and growing, and we are driving significant direct-to-consumer growth worldwide."
Evans Jr added cash flow from operations continues to be the engine of Hanes' business model, and tax reform will not have a meaningful effect on its cash generation.
Meanwhile, the company has entered into a definitive agreement to acquire Bras N Things, a leading specially retailer and online seller of intimate apparel in Australia, New Zealand and South Africa. In 2017, Bras N Things had net sales of about AUS$180m (US$144m).
The all-cash transaction is valued at AUS$500m (US$400m) on an enterprise-value basis.
According to Evans Jr, Bras N Things is a "strategic and natural complement" to Hanes' Bonds underwear business in Australia and New Zealand.
"Bras N Things has a great business model that appeals to millennial consumers featuring core products supplemented by seasonal product offerings," he added. "This consumer-direct sales model has significant potential for expansion into other geographic markets. We are delighted that Bras N Things CEO George Wahby, who oversees a talented management team, will remain with our Hanes Australasia business unit."
Based in Sydney, Bras N Things, sells proprietary bras, panties and lingerie sets through a retail network of about 170 stores and a fast-growing e-commerce platform. The company's three-year compound annual growth rate is 11%, and online sales last year increased 71% and represent nearly 10% of total sales.
The company operates 154 stores in Australia, ten stores in New Zealand and seven stores in South Africa.
With the acquisition, the company's combined Australian commercial businesses would hold the number one market position in bras and the number one market position in panties in Australia, as well as the top market position for underwear, socks and babywear.
The acquisition is expected to close in mid-February.
FBR & Co analyst Susan Anderson believes the acquisition will fit in well with Hanes' existing Hanes Australia business and continue to add more diversification to the firm's revenue base.