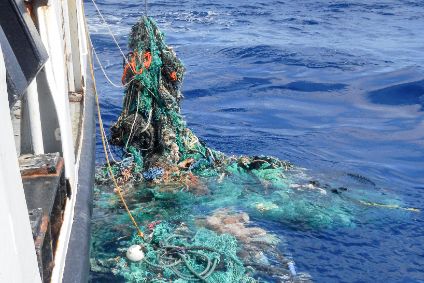 South Korean apparel manufacturing giant Hansae Fashion Worldwide has pledged to invest 10% of net profits from all 'green orders' made using eco-friendly raw materials to support third-party sustainability initiatives.
Launched earlier this year, the '10% For Good' programme will contribute at least US$100,000 a year – up to a maximum of US$1m – to projects including water management, green raw material R&D, hardware upgrades, and sustainability retrofits.
Hansae has also made a donation to The Ocean Cleanup project, which is developing technologies to collect and remove waste plastics from the world's oceans. Based in Rotterdam in the Netherlands, its goal is to clean up 50% of the waste in the Pacific Ocean every five years.
The South Korean group is one of the world's largest apparel manufacturers, with a global network of 14 factories in six countries – Vietnam, Nicaragua, Guatemala, Indonesia, Myanmar and Haiti – and more than 35,000 employees. It also has an office in New York.
"I believe that it is important that we all share this planet and that we are responsible for the roles we play in our respective locations," explains Hansae's CEO, Kim Ik Whan.
The company also says it will continue to explore innovative new ways to collaborate with customers and supply chain partners to drive future sustainability initiatives "to create a better future for our workers, customers, consumers, and people everywhere."
With exports of around 300m articles of clothing per year, Hansae customers include brands and retailers such as Gap Inc, Target, Walmart, Kohl's, and Pink/Victoria's Secret. Last year the company says it procured over 30 million yards of sustainable fabric, from recycled fibres to organic raw materials, including BCI cotton, organic cotton, and Repreve recycled nylon.
According to the company's current five-year sustainability targets, which began in 2015, its goals are to use 5% less electricity, 50% less oil, and 90% less coal, as well as cutting CO2 emissions by 25% and water use by 10% per one million garments produced.
The group is also rolling out smart factories that use digitised processes, IoT enablement and big data to minimise resource and product waste and improve efficiency. And a sustainability project at its vertically integrated C&T Vina fabric mill – which will dye an estimated 29m kg of fabric in 2019 – includes an investment in rainwater harvesting, and low liquor garment dyeing and washing machines.