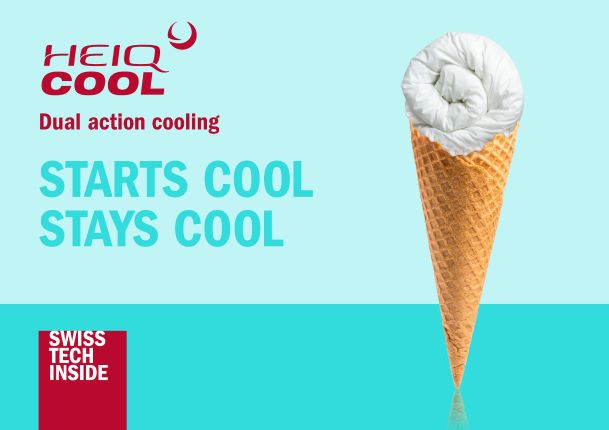 HeiQ says its new HeiQ Cool has launched to solve body temperature control when both overheating and feeling cold are an issue.
The HeiQ Cool powered fabrics are designed to constantly regulate the skin temperature with a dual cooling capability.
The melting energy absorption delivers instant contact cooling before the first sign of sweat and delays the build-up of heat, followed by a vaporising energy action that mimics the skin's thermal regulating system by providing continuous evaporative cooling as long as the body is hot and sweaty.
The technology is suitable for all fabrics, including apparel, however, the initial launch focuses on home textiles.
The components are instantly cool to the touch and synergistically recharge the surface layer ensuring a consistently cool, dry and comfortable body climate.
How does HeiQ Cool work?
The biobased vegetable oil-derived thermo-functional polymer absorbs heat energy, giving an instant cooling sensation, HeiQ explains.
]If the body continues to heat up, perspiration is generated and the patented hydro-functional polymer transports moisture away together with the heat, creating a continuous cooling effect that stops once cooling is complete.
The combination of a hydro-functional polymer with bio-based vegetable oil-derived thermo-functional polymer formulation of HeiQ Cool contains more than 50% USDA certified bio-based content.
It is also Oeko-Tex class 1 suited and is said to meet most brand RSL (restricted substances list) requirements.
HeiQ Cool follows the launch of AeoniQ, a high-performance cellulose yarn based on a new fibre derived from carbon-negative materials.