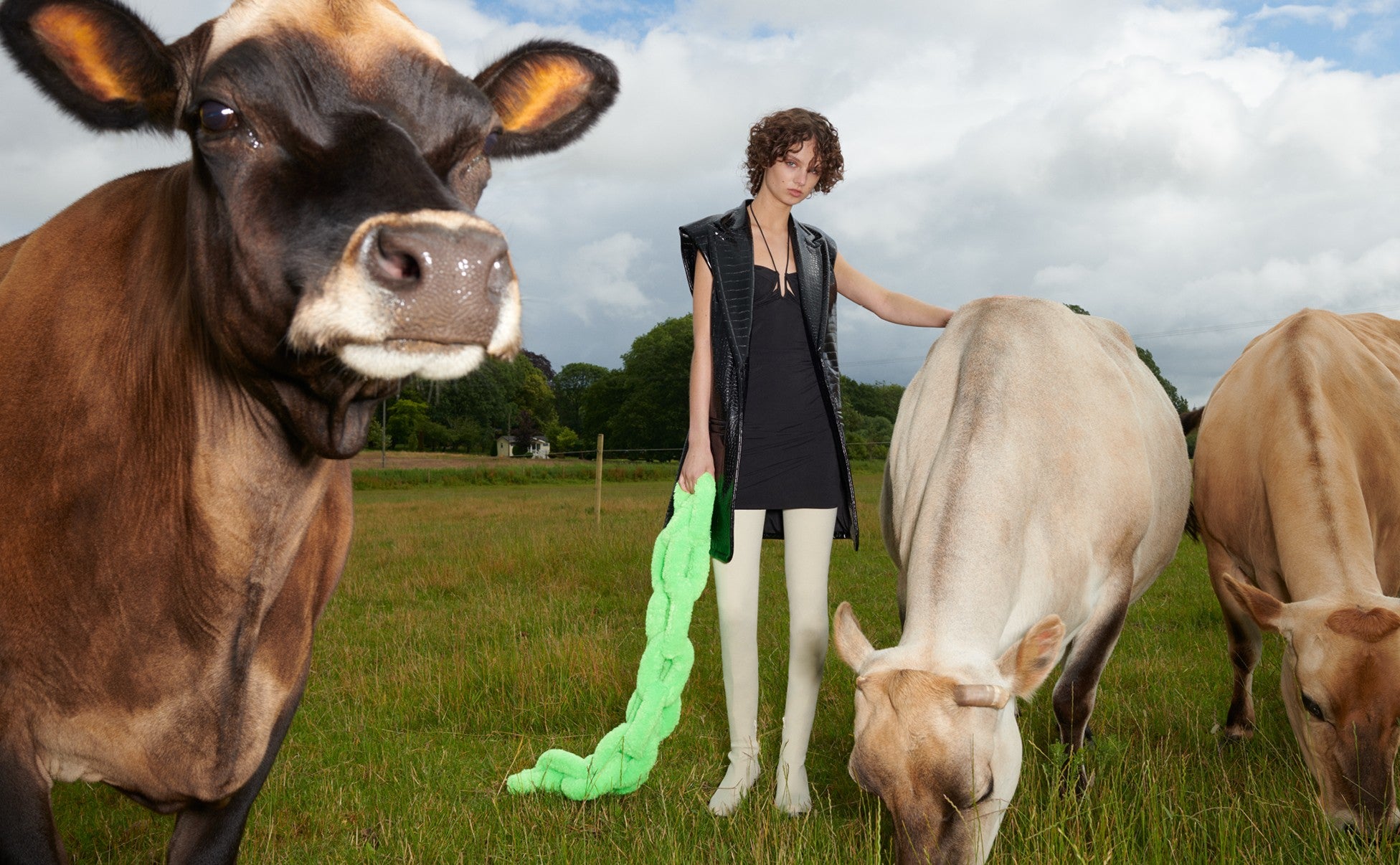 Spanning womenswear, menswear and kidswear, the Co-Exist Story is the third installment in H&M's Innovation Stories initiative, which launched in early 2021 and aims to showcase more sustainable innovations, materials, and designs.
The collection combines innovative animal-substitute fabrics and more sustainably sourced materials such as FLWRDWN, an alternative to animal down made using wildflowers, and VEGEA, a plant-based substitute for oil-based and animal-derived leathers.
Key pieces include an oversized cream faux fur coat in recycled polyester and a one-shouldered knitted dress with a fringed hem in an Econyl blend. The collection also includes heavy-duty rubber fisherman's boots in Yulex natural rubber with FLWRDWN puffer shoes for men and vegan make-up – two lipsticks and an eyeliner pack – which, in a first for H&M, is certified by The Vegan Society.
"The 'Co-Exist Story' collection epitomises our ongoing commitment at H&M to exploring innovative alternatives to animal-derived fabrics while still offering our customers cutting-edge fashion. H&M and PETA have enjoyed a positive dialogue throughout the project, and we are proud to support the valuable work that PETA is doing every day," says Ann-Sofie Johansson, creative advisor at H&M.
PETA corporate responsibility manager, Laura Shields, adds: "Much of our work at PETA is accomplished by forming positive relationships with companies such as H&M as we strive to end the use of animal-derived materials. We're thrilled to partner with H&M on a collection that features fabulous vegan designs that are kinder to the planet and to the animals who live on it."
The Co-Exist Story follows H&M's second Innovation Stories series drop in April. Colour Story highlighted new, more sustainable methods of working with colour with garments dyed using techniques such as biotechnology, plant-based pigments and closed-loop systems.
The Co-Exist Story Collection will be available worldwide at hm.com and in selected stores from 4 November.
Just Style recently caught up with H&M's global technology officer Alan Boehme ahead of his keynote presentation at next month's Web Summit to discover why technology is so important for the sector's future.