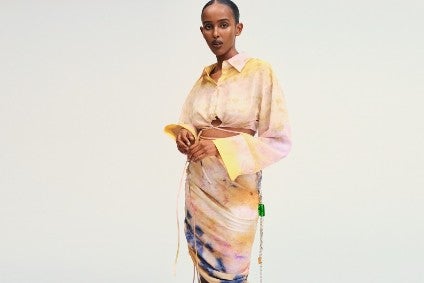 The latest collection from Swedish fashion retailer H&M highlights new, more sustainable methods of working with colour with garments dyed using techniques such as biotechnology, plant-based pigments and closed-loop systems.
The Colour Story collection is the second drop under H&M's Innovation Stories series that aims to explore "the future of sustainable fashion" through more sustainable materials, technologies, and production processes.
Joining forces with innovators, H&M created a selection of contemporary pieces that bring awareness to the dyeing and printing processes' environmental impacts.
Key pieces include a digitally printed spaghetti-strap-waisted cropped shirt and drawstring skirt, as well as a plant-based dyed, caped dress and poncho-style hoodie, comprised of more sustainably sourced fabrics. The collection also includes a chestnut top and trouser co-ord, coloured with We aRe SpinDye.
Accessories in the line include hooped earrings made from recycled glass, with no added colour pigments, and chunky-soled sandals made from Bloom, a flexible foam partly produced with algae biomass.
In keeping with its mission towards a circular fashion future, H&M will be offering a unique selection of pieces for customers to rent. Both Stockholm, Sweden and Mitte, Berlin will have a selected store with rent-able collections.
"We're continually aiming to create elevated pieces with more sustainable materials and processes. With this collection, our forward-thinking designs work together with revolutionary dye processes to make a positive change – be that lower water consumption or reformed manufacturing," says Ann-Sofie Johansson, creative advisor at H&M.
The retailer's first drop its Innovation Stories series was the Science Story collection with garments made using cactus leather through a partnership with Mexican leather company Desserto.