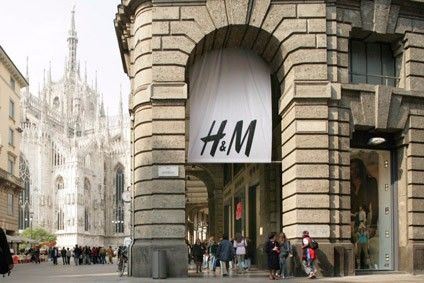 As part of its goal to use 100% recycled or other sustainably sourced material by 2030, H&M has invested in Swedish textile recycling technology specialist Re:newcell, which converts old textiles into pulp to produce new clothing.
Announced at this week's Textile Exchange Sustainability Conference in Washington DC, the fashion retailer has invested via its H&M CO:LAB venture capital arm, becoming one of the minority shareholders and committing to buy textiles made of Re:newcell pulp.
However, Re:newcell told just-style the move is not an exclusive partnership, and Re:newcell's products remain available to other brands with a "genuine" sustainability agenda.
The firm's technology recycles used cotton, viscose and other cellulosic fibres into a new, more sustainable dissolving pulp, replacing wood fibres like viscose and lyocell as the raw material input. The biodegradable pulp can then be turned into new textile fibres and fed into the textile production cycle. Current production at its Kristinehamn plant is 7,000 tonnes of pulp per year, with additional units planned.
Last year, Re:newcell received a SEK48m (US$5.6m) investment last year to build the world's first production line for textile pulp from recycled materials.
As part of its work to close the loop, H&M says it is "crucial" to find solutions for substituting many currently used fibres with either recycled or other sustainably sourced alternatives.
"Re:newcell's technology has the potential to become a commercial and scalable solution for the industry and accelerate the journey from a linear fashion industry towards a circular one," says Cecilia Brännsten, acting environmental sustainability manager and circular economy lead at H&M.
Last week, H&M unveiled its latest sustainable clothing collection, made using recycled cotton collected via the company's in-store garment collecting scheme, as part of its mission to create a circular supply chain.