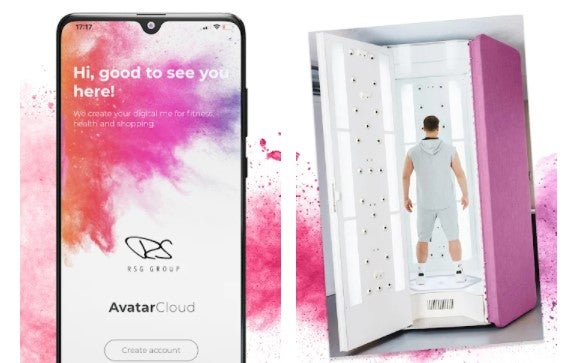 H&Mbeyond, which is the H&M innovation lab of H&M Germany, has partnered with NeXR Technologies to install the Fusion III body scanner. The partnership will start the test phase of NeXR's AvatarCloud Fashion application and gives customers a virtual fitting room experience.
As part of the launch H&M customers will have the chance to virtually try on perfect-fit looks from the new collection from their own home and outside of store opening hours via the digital fitting rooms in two Berlin stores and one Hamburg store.
The technology allows customers to have a personal avatar or digital twin created free of charge with their exact body measurements being used within the scanners.
The technology also gives H&M customers the opportunity to use the virtual fitting room to try on matching styles of 30 pieces of apparel from the new collection on their personal avatar.
NeXR Technologies managing director Markus Peuler explained: "We are very proud that H&Mbeyond awarded us as a trusted partner in their innovation work immediately with the test operation in three of their major stores."
He added: "With our virtual fitting solution for H&M Germany, we have reached another milestone in the roll-out of our products announced for the current financial year. We are confident that this cooperation will also enable us to make a long-term contribution to sustainability in the textile industry. That is a very important matter for us."
NeXR Technologies' innovation is being driven forward by the collaboration with H&Mbeyond. The company explains it is for use in fashion retail and aims to provide a next-level digital shopping experience and analyse what impact digital fitting rooms can have on customers' shopping behaviour.
Earlier this week H&M announced the results from a five-year study it has carried out with Ikea to identify safe recycled textiles in a bid to fulfil its long-term sustainability goals.