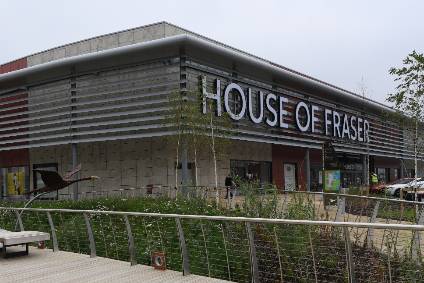 House of Fraser has become the latest UK retailer to have had credit insurance withdrawn to some of its suppliers – in a move that will spark fresh concerns over its finances.
The department store chain posted disappointing sales over the Christmas period amid pressure from the shift to online shopping and the cost of running its store network. It also recently finalised the terms of the sale of the brand names no longer used in the UK to Guangzhou Sunrise Trading Limited.
A spokesperson for House of Fraser confirmed to just-style that a leading credit insurer has decided to stop offering cover to some of its suppliers. The decision is understood to have been taken a month ago. The insurer covers around 20 of House of Fraser's 650 suppliers.
The spokesperson for the retailer said no other insurers have pulled cover and that the overall impact to business so far has been "limited."
The cover is seen as standard in the retail clothing industry and provides suppliers with protection in the period between an order being accepted and payment being made in case the retailer cannot pay its bills. If an insurer refuses cover then suppliers often demand upfront payment, placing further pressure on the retailer's working capital.
The loss of cover was seen as a contributing factor in the demise of BHS and Woolworths. Earlier this month, UK fashion retailer New Look also had credit insurance withdrawn for many of its suppliers.
A source close to the insurer told The Sunday Times it had taken the decision because of the "structure and state of the company" and the issues it faced "generally". Ted Baker is believed to be among the brands affected by the withdrawal.
This is not the first time the department store retailer has lost credit insurance. It is thought to have happened at least once before, after the 2008 financial crisis. The management team are understood to have negotiated relaxed terms from its lender, HSBC, and payment plans with its brands.
The move comes just a month after House of Fraser called on its landlords to reduce its rent bills. The retailer has been undertaking a GBP25m (US$35.1m) re-platforming its e-commerce business, which has taken its toll on profits. The company is looking to enhance the online experience, improve e-commerce margins, and double online sales.