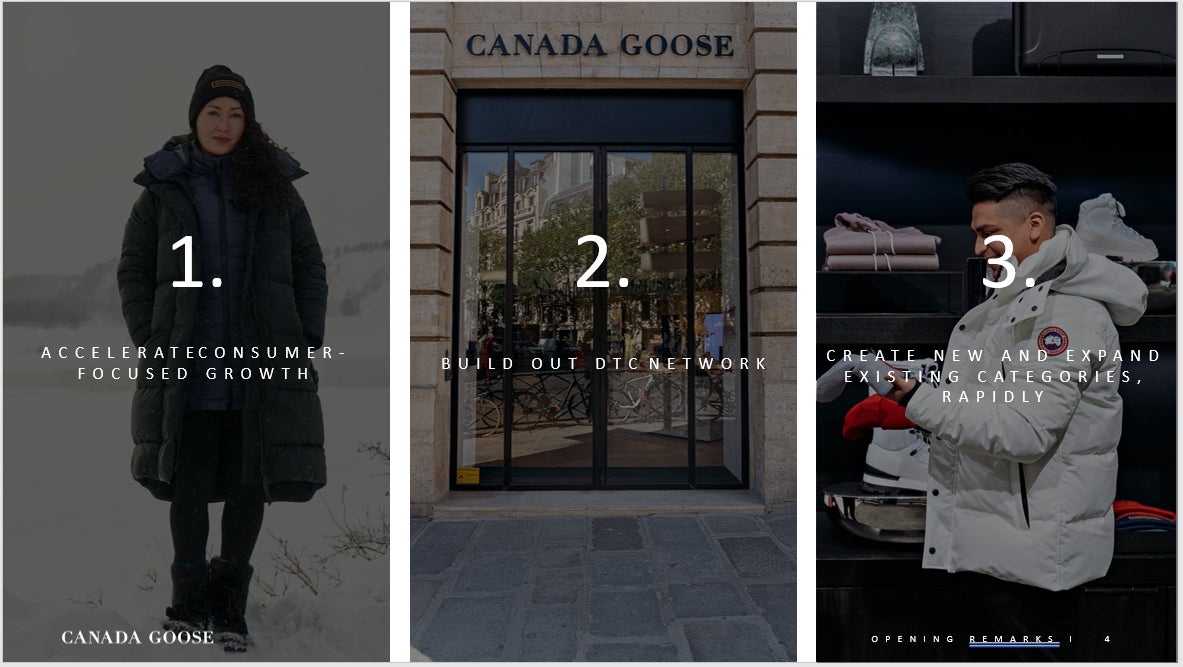 Canada Goose recently announced their ambitious 'strategic' plans centred on three growth pillars. This growth is expected to be driven by the acceleration of the consumer-focused growth initiatives, the buildout of the direct-to-consumer (DTC) network and the creation of new and more rapid expansion of existing categories.
Accelerating consumer focused growth
The Canadian company wants the opportunity to focus on growth with loyal and new customers, focusing on women and Gen Z.
Building DTC network
By the end of the third quarter of the fiscal year 2023, Canada Goose hopes to more than double its retail footprint from the current 51 permanent stores while continuing to grow its digital presence, both through Omnichannel and online.
"We see opportunity in new markets around the world and expect to increase our DTC penetration within existing markets and will evolve our distribution structure in others." Said the company.
Creating new and expanding existing categories
Canada Goose expects continued growth in in all categories including heavyweight and lightweight down and accelerated growth of newer categories such as rainwear, apparel and footwear as well as the addition of further categories including eyewear, luggage and home.
Dani Reiss, chairman and chief executive officer of Canada Goose, said: "Today, Canada Goose is recognized around the world as a performance luxury lifestyle brand. Our products are iconic, our style is enduring, and our brand has never been stronger.
"Looking ahead, we see an incredible opportunity to continue the revenue growth trajectory we have experienced since the time of our IPO and deliver increasing rates of profitability. As we grow, we will expand our categories, geographies and capabilities with a keen eye towards investing where we see a high return, protecting our brand and delivering high quality, profitable growth."
Reiss continued: "As I look at the next five years, I am confident in our long-term financial plan, introduced today, to reach US$3bn in revenue, and an adjusted EBIT margin of 30% through the execution of our three strategic growth pillars."
Last week Canada Goose launched a platform for pre-loved styles.