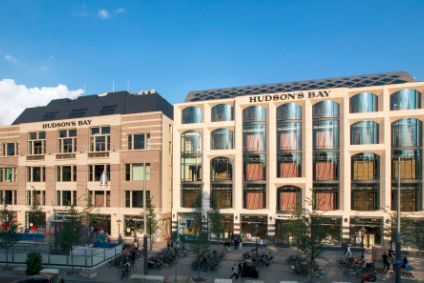 Shares in Hudson's Bay Company (HBC) remained up by almost 6% this afternoon (4 April) as CEO Helena Foulkes hailed the Canadian retailer as "far stronger" than it was a year ago despite a drop in fourth-quarter sales.
For the 13 weeks ended 2 February, net profit surged to CAD286m (US$214m) from CAD84m in the year-ago period.
However, the retailer posted a net loss from continuing operations of CAD226m in the period against net earnings of CAD180m in 2018. HBC said there were two primary components to the year-over-year change – a CAD194m restructuring charge which unfavourably impacted the contribution from its European retail joint venture and lower income tax benefits after a favourable CAD181m impact in the fourth quarter of 2017 as a result of US tax reform.
Gross margin in the period was 36.7%, as compared to 38.7% in the same quarter a year ago. The 200 basis point decline was driven by closing eight stores, including the Lord & Taylor New York City flagship during the quarter, and an inventory provision for the pending closure of Home Outfitters.
Fourth-quarter revenue, meanwhile, amounted to $2.9bn, a decrease of CAD167m from the same quarter a year ago when the period included an extra week. Excluding the extra week, fourth-quarter revenue declined CAD47m or 1.6%. Overall comparable sales decreased 1.4%, with comparable digital sales up 8.7%.
Comparable sales at Saks Fifth Avenue grew for the seventh consecutive quarter, increasing by 3.9%, while comparable sales at Saks Off 5th declined 2.1%. HBC said the rate of decline at Saks Off 5th continues to moderate, in part due to a substantial year-over-year increase in digital sales.
Meanwhile, at DSG (Hudson's Bay, Lord & Taylor, and Home Outfitters) comparable sales decreased 5.2%. After the quarter closed, the company announced the closure of Home Outfitters and a leadership transition at Hudson's Bay. This business unit is being led by key executives from the HBC team, under the direction of Helena Foulkes, until a permanent successor is found. Lord & Taylor sales continued to decline year-over-year.
Foulkes said the retailer is a "far stronger" company today than a year ago, despite some of the top-line challenges this quarter.
"We've returned to positive operating cash flow, improved the bottom line across all of our businesses, increased profitability by 30% and strengthened our balance sheet," she added. "We also made great strides in simplifying the business, strengthening operations, and deepening understanding of our customers. While there is still more work to be done, these results further demonstrate that HBC is benefiting from the bold strategic actions taken throughout 2018."
These include selling its member-based digital shopping business Gilt to US apparel and homewares retailer Rue La La; plans to "right-size" its Lord & Taylor banner; and completing a deal with retail estate business Signa Holding to merge their respective retail operations and the formation of the companies' real estate joint venture.
The move, which was first announced in September, was given the green light in November of last year and sees the firms merge their respective HBC Europe and Karstadt Warenhaus GmbH's retail operations as part of a bid to compete more effectively against e-commerce players.
It creates what is understood to be Germany's leading retailer with 243 locations, 32,000 employees, and annual revenue in excess of EUR5bn, 49.99% of which will be owned by HBC, while retail estate business Signa Holding, the owner of Karstadt, will own the remainder.
Meanwhile, in February, HBC announced it expects to close up to 20 of its Saks Off 5th locations in the US as part of a review of the entire fleet of 133 stores.
In the retailer's fourth-quarter results statement, Foulkes added Saks Fifth Avenue and Hudson's Bay offer HBC its "greatest long-term growth opportunities", noting the company is "encouraged about what lies ahead."
For the full year, HBC narrowed its net loss to CAD541m from CAD581m in the prior fiscal year but reported a CAD631m loss from continuing operations, widening from the CAD139m loss reported in the previous year. Sales totalled CAD9.4bn for the full year.