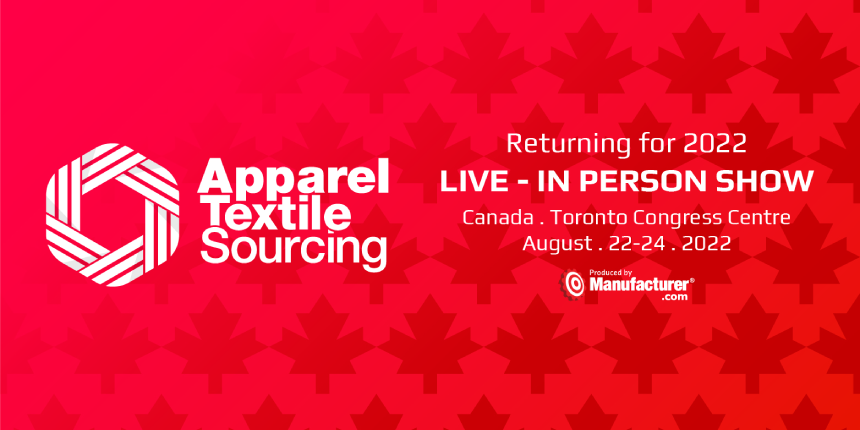 Apparel Textile Sourcing will be taking place at Canada's Toronto Congress Center next month in a bid to connect thousands of people working within the global apparel supply chain together in-person for the first time since before the pandemic.
The focus of the show will be fashion, apparel, textiles, and sourcing with more than 150 textile mills, finished apparel suppliers and industry providers in attendance and so far the pre-registration for those wishing to visit the free show has exceeded 5,000.
The show will feature industry resources, experts, and manufacturers and will give sourcing buyers, designers, retailers, executives, professionals, and amateurs first-hand access to apparel and textile producers from Bangladesh, China, India, Mongolia, Nepal, Pakistan, South Korea, and the Americas.
Bob Kirke, executive director Canadian Apparel Federation, said: "In a year when travel and trade shows are slowly coming back, ATSC found a way to bring the world of apparel and textiles back to Canada. I can't wait to be part of it again later this summer. A great place to network and meet new global suppliers."
The event producers have worked in conjunction with Canadian as well as international embassies and consulates, to attain appropriate processing approvals and international travel visas, in order to bring this level of international sourcing event to Canadian soil for the first time since before the pandemic.
Along with hundreds of international manufacturers, products and exhibits, ATSC will feature its seminar series onsite with live sessions from the Canadian Apparel Federation, Brands for Canada, TESTEX, Worldwide Responsible Accredited Production (WRAP), V.mora, and the Mongolian Wool & Cashmere Association.
ATSC had to cancel in-person events and provide virtual trade shows since 2020 due to Covid and international travel and in-person meeting restrictions. however the company has continued its virtual sourcing business model by offering integrated solutions with online platforms Manufacturer.com and TopTenWholesale.com.
Jason Prescott, CEO of JP Communications said: "We were committed to bringing this show back to Canadian soil. We never stopped pushing governments and embassies all over the world. Our team never took no for an answer. ATSC started here, it grew here, it expanded to Miami, Montreal, & Europe. This is Canada's show, and it's free for all, come make the most of it."