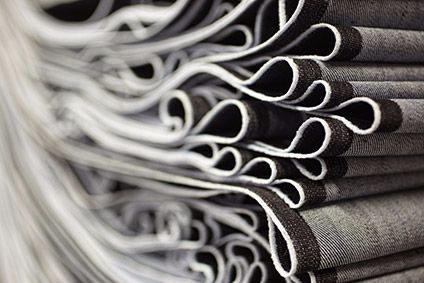 Consolidation and a focus on premium products are the answer to the supply glut in India's denim industry, with improved margins on the horizon, new research suggests.
With a manufacturing capacity of about 1,800 million metres per annum, India is one of the world's leading denim fabric producers according to a new report on 'Denim Industry Trends' by analysts at India Ratings and Research (Ind-Ra).
They point to strong domestic demand, led by increased wholesale and consumer demand for basic denim, and exports for value-added denim to gradually improve capacity utilisation.
Indeed, Mahaveer Shankarlal, associate director – corporate ratings, says: "Ind-Ra believes denim sector margins are on the cusp of gradual improvement owing to focus on premium products and vertical integration.
"While the basic denim overcapacity will persist in FY2020-FY2022, the improved demand outlook will underpin benefits from operating leverage and enable transmission of raw material cost inflation to an extent."
The agency expects large- and mid-sized denim players to continue increasing the share of premium and high-value added denim fabric as the oversupply situation has prolonged and squeezed margins in the mass segments.
Denim players have also increased their garment-making facilities given consolidation of unorganised small garment players post demonetisation and implementation of the Goods and Services Tax (GST).
Ind-Ra expects minimal new greenfield investments in the sector as existing overcapacity levels will not entice any players to start investing before FY22 given that the current capex will require two to three years to stabilise.
The agency further expects the sector's operating margins to improve moderately to 10%-11% in FY20. However, inflation in cotton prices will combat the benefits of operating leverage and modest increase in fiscal incentives. Furthermore, revision of remission of state levies and states' incentive schemes will underpin margin recovery in FY20.
Overall, Ind-Ra expects the credit profile of denim fabric manufacturers to marginally improve in FY20 amid recovery in operating margin, aided by reduction in operating leverage and higher mix of value-added products.
Ind-Ra's rated portfolio includes Sangam (India) Limited and Aarvee Denims and Exports Limited.
Sangam India Limited (SIL) is among the top three producers of polyester viscose dyed yarn in India with a total capacity of 238,608 spindles. Its FY19 operating income grew 13% year-on-year to INR18,736m(US$273.9m), and further growth is seen coming from capacity addition in niche products. The company is increasing its focus on non-denim products, capacity additions in rope dyed denim yarn and seamless divisions.
Aarvee Denim & Exports Limited has a total installed capacity of 85.7m metres per annum and has in-house yarn manufacturing facilities for denim. Its FY19 sales fell 9% year-on-year to INR7,516m (US$109.9m) due to overcapacity and the implementation of GST during FY18, when inventory was being piled up with customers. But EBITDA margins improved to 10.9% in FY19 thanks to better realisations from wide width looms, although absolute EBITDA was lower due to lower revenue and demand. The company has installed 124 looms in FY19, out of a total 166 looms to be replaced. Ind-Ra expects capacity utilisation to grow moderately to 68%-70% in FY20, supported by the recovering demand-supply balance in the denim markets.