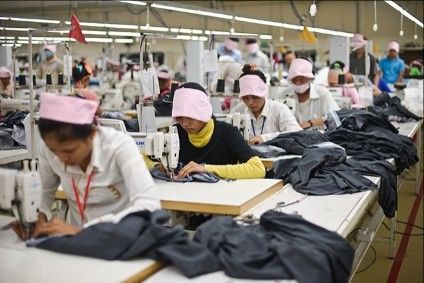 Trade unions in Cambodia are said to be gearing up for a meeting with the country's Ministry of Labour to negotiate revising the minimum wage for garment workers.
The government raised the minimum wage to US$194 per month earlier this year, from $192, raising concerns within the industry as Covid-19 delivered a turbulent year for the key outsourcing hub.
According to local reports, unions in the garment sector claim workers want a wage hike of between $20 and $50 next year, given the increasing cost of living.
Meetings are expected to take place next month to negotiate a rise for workers in the textile, garment and footwear industries, which will take effect on 1 January 2023.
Cambodia's clothing and textile industry has rebounded since orders skidded to a halt in the first few months of 2021, when factories were stymied by a community Covid-19 outbreak. The country's Coronavirus cases shot up from under 500 at the time to more than 50,000 by the end of the first half of the year.
Some factories have had to spend additional money on Covid-19 prevention and response expenses, from masks and alcohol to rapid tests.
Garment Manufacturers Association of Cambodia (GMAC) Secretary-General Ken Loo, told the Khmer Times: "We have not had a meeting yet, the Ministry is preparing and I do not have more information on it. We have to wait for the results of the previous meeting until October." GMAC could not be reached for comment at the time of going to press.