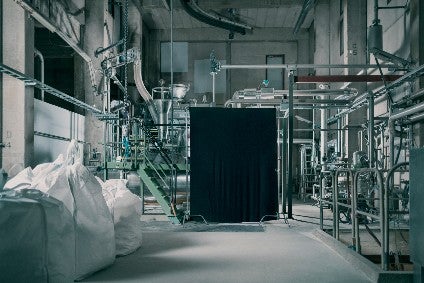 Circular fashion and textile technology group Infinited Fiber Co has revealed plans to build a EUR220m (US$264.2m) flagship factory in its native Finland to produce its regenerated textile fibres for the global market – and take the industry a step closer to having access to a premium, circular alternative to cotton.
The company's technology turns cellulose-based raw materials, like cotton-rich textiles, used cardboard or rice or wheat straw, into Infinna, a fibre with the natural, soft look and feel of cotton.
The firm currently operates pilot facilities in the cities of Espoo and Valkeakoski, Finland, with a combined nominal capacity of 150 metric tonnes per annum. The planned flagship factory will have an annual capacity of 30,000 metric tonnes per annum and will use textile waste as feedstock.
The plant's entire output is intended for export. Infinited Fiber is currently negotiating offtake agreements with several global fashion and textile brands and believes these will be in place before the end of 2021, securing the factory's entire output capacity for several years.
Co-founder and CEO Petri Alava tells just-style the firm is seeing "really solid and growing demand" for Infinna from the global fashion and textile brands.
"We are currently supplying them from our pilot facilities. But as our pilot operations are also intended for continued R&D and they are not set up for commercial-scale production, that's becoming a bottleneck. The intention of this [new] plant is to speed up time-to-market for Infinna and to demonstrate production viability at scale."
He explains the firm has been considering and evaluating the possibility of setting up a flagship factory in Europe for some time, and after investigating various factors in different countries, decided to base the facility in Finland for a number of reasons.
"First of all, Finland has world-class know-how and engineering expertise in the cellulose industry thanks to its long history of pulp and paper making. There are also several existing sites where our planned factory could potentially benefit from synergies. With this flagship, we want to demonstrate the best possible ways of producing our fibre, and the availability of renewable energy sources to power our plant also speaks in favour of Finland. There is also a rapidly emerging and developing ecosystem of partners with the supporting operations needed to create a circular textile economy. A great example of this is Lounais-Suomen Jätehuolto, which is building a refinement plant for household textile waste."
While Alava notes technology licensing remains central to Infinited Fiber's long-term business strategy, he says the new plant will speed up the availability of Infinna to the global fashion and textile market in the short- to medium-term.
"We are a technology company with pilot operations, and production from our existing sites is simply too small to meet the growing demand for Infinna. Setting up a factory will of course boost production capacity. Technology licensing remains our long-term strategy, and we believe that with our pilot factory will be able to demonstrate the viability of the technology to future licensees."
Alava adds the new facility marks a huge next step towards commercialisation for the company which is still a start-up.
"It will mean a big leap in the number of employees we have and in our ability to serve our customers," he adds.
"This is also significant for the industry, which is looking for high-quality circular alternatives to the conventional materials that currently rely on limited virgin resources. Infinna is such a solution, and the main challenge we currently have – and that the industry has – is that it is not readily available for wide use. Given the size of the overall industry, this one plant alone will obviously not solve this problem. But it will take the industry a step closer to having access to a premium, circular alternative to cotton."
International technology group Andritz will be a key supplier of the process equipment for the new plant, while Lounais-Suomen Jätehuolto Oy (LSJH) will supply raw material from the full-scale textile waste refinement plant it is preparing in the Turku region of Finland. The plant will process all the end-of-life textiles of Finnish households in cooperation with other municipality-owned waste management companies.
"We sort the post-consumer textiles by material into various fibre classes using optical identification technology developed by LSJH and its partners. This ensures the quality of the raw material and the resulting fibre products. To create a sustainable value chain for textile recycling, we are happy to have an innovative business partner like Infinited Fiber Company to process the material further," says Jukka Heikkilä, managing director for Lounais-Suomen Jätehuolto.
Infinited Fiber says a decision will be made on the location of the plant by September and it is expected to be operational in 2024.
The firm is among the recyclers taking part in a new initiative to capture and reuse textile waste in Bangladesh and, earlier this year, saw its Infinna fibre feature in a limited-edition range of jeans designed by H&M brand Weekday.