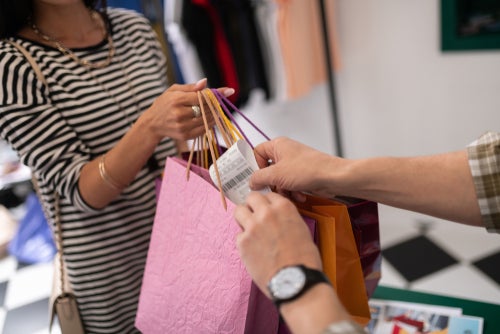 The British Retail Consortium says it is going to be impossible to protect consumers from product price rises in future with commodity prices, energy prices and transportation costs continuing to rise and fuelling inflation across retail stores, including clothing sellers.
Inflation in non-food retail stores, which includes clothing, accelerated to 0.9% in January compared to a fall of 0.2% in December according to data from the British Retail Consortium (BRC), a faster rate of growth than the 12-month and six-month average price changes of -1.3% and -0.4%, respectively.
The data published by UK retail trade body, BRC, and market research company NielsenIQ, shows that UK shop price inflation in January 2022 is above the 12-month average decrease of 0.6 and six-month average price rise of 0.1% and marks the highest rate of inflation since December 2012.
BRC chief executive Helen Dickinson points out: "January saw shop price inflation nearly double, driven by a sharp rise in non-food inflation."
She explains the rise in shop prices is playing into wider UK inflation, which is pushing cost of living to the forefront of the political agenda. Many households will find it difficult to absorb the additional costs, as well as others on the horizon.
With supply costs on the up it is inevitable that retail prices will continue to follow in the future, she adds
While, NielsenIQ head of retailer and business insight Mike Watkins adds: "The surge in energy and travel costs is now impacting disposable incomes and is likely to dent consumer's willingness to spend."
He explains that NielsenIQ research shows nearly a half of all households are saying their most important concern at the moment is the rising cost of living. This will mean stores will need to encourage cash-strapped customers to keep shopping and despite the increase in shop prices, retailers are responding by keeping price increases as low possible for as long as possible."
Inflation is also having a major effect in the US with The American Apparel & Footwear Association urging Biden to tackle rising apparel inflation rates before Christmas following the news the US Consumer Price Index had increased to a 40-year high of 6.8%.