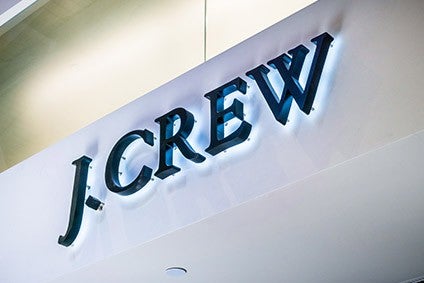 US apparel retailer J.Crew Group has filed for Chapter 11 bankruptcy protection as part of an agreement that will hand over control to its top lenders.
The retailer will restructure its debt and deleverage its balance sheet under the terms of the Transaction Support Agreement (TSA), which will see the company's main lenders convert around US$1.65bn of its debt into equity.
Lenders holding around 71% of its term loan and around 78% of its IPCo notes – led by Anchorage Capital Group, Blackstone Group's GSO Capital Partners and Davidson Kempner Capital Management – are providing US$400m of financing that will support he company's operations during the Chapter 11 restructuring.
As part of the agreement, Madewell – which the group had been planning to spin off through an initial public offering (IPO) – will remain part of the company, and Libby Wadle will continue in her role as CEO of Madewell.
"This agreement with our lenders represents a critical milestone in the ongoing process to transform our business with the goal of driving long-term, sustainable growth for J.Crew and further enhancing Madewell's growth momentum," says CEO Jan Singer.
"Throughout this process, we will continue to provide our customers with the exceptional merchandise and service they expect from us, and we will continue all day-to-day operations, albeit under these extraordinary Covid-19-related circumstances. As we look to reopen our stores as quickly and safely as possible, this comprehensive financial restructuring should enable our business and brands to thrive for years to come."
The company has filed a series of customary "first day" motions with the Bankruptcy Court seeking to maintain its operations during the restructuring process to help facilitate a smooth transition into Chapter 11.
The group, which operates 181 J.Crew retail stores, 170 factory stores and 140 Madewell stores, has been labouring under a huge debt burden.
In its second-quarter J.Crew reported flat sales of US$588.8m, while comparable company sales fell by 1%. The group's namesake brand posted a 7% sales decrease to $399.1m, while sales at its Madewell arm grew by 15% to $139.7m. Net losses grew to $44.2m from $6.1m a year earlier.
Prudent move
Neil Saunders, managing director of GlobalData Retail, notes that while J.Crew has been making progress in reducing its losses, the company still ended its last fiscal year $78.8m in the red.
"The primary source of this financial woe is the $1.7bn of long-term debt that sits on the company's balance sheet like a millstone around its neck. Quite simply this is crippling the business which, at operating level, is profitable.
"The decision to enter Chapter 11 with the intention of deleveraging the balance sheet is prudent and, arguably, something that should have been done years ago.
"However, the coronavirus crisis has forced the situation to a head. It has also given J.Crew some justification to ask lenders to make the unpalatable choice of having their debt converted into equity. In the current trading environment, the alternative would have been default, putting J.Crew on the path to liquidation.
"Although getting rid of the debt gives the firm some much needed breathing space, it is not the only issue to contend with. The J.Crew brand still isn't resonating with consumers – especially across the full price part of the business. J.Crew's products are not terrible in either quality or design. However, ranges are samey and lack the embellishments and twists of more contemporary brands that would allow them to stand out. The consequence of this is that a growing number of shoppers see J.Crew as both boring and bad value for money and refuse to pay full price for garments.
"Outside of J.Crew, Madewell is having a better time with sales up strongly, driven by a growing loyal base of shoppers. While the brand is smaller than J.Crew it is an important driver of the company's overall value. As such, it is not surprising that it will now remain a part of the group and not be spun off via an IPO.
"Before Chapter 11, J.Crew was on a slow march to ruin. This process gives the company a chance to survive. However, that survival is not just dependent on reduced debt; it requires a reinvention of the J Crew brand. Given the apparel market will be highly subdued, extremely promotional, and intensely competitive as the coronavirus crisis abates, reinvigoration of the ailing label will be an order of the tallest magnitude."