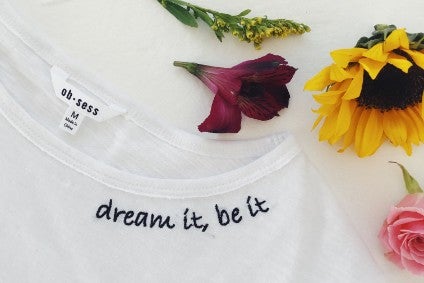 US department store retailer JCPenney is launching a new capsule collection aimed at Generation Z girls – a demographic expected to become the largest consumer segment over the next few years.
The exclusive new brand is called Obsess, and will feature rotating capsules inspired by influential young women who promote a positive body image. The brand's first collection, influenced by Olympic gold medalist Laurie Hernandez, features tops, rompers, dresses and jeans designed for all body types and will launch online next week.
"Obsess is a very unique brand that allows JCPenney to reach a generation of girls who move rapidly from one fashion trend to another, as they discover new style inspiration through daily social media feeds," explains James Starke, the retailer's senior vice president of merchandising.
"As we focus on driving business to JCPenney, we have an opportunity with Obsess to attract an entirely new, and often elusive, Generation Z customer. Gen Z holds $44bn in buying power and is on track to becoming the largest consumer segment over the next few years, representing significant sales growth potential."
The line is available for girls in sizes 7 to 20, including plus sizes, with prices ranging from $21.99 for an embroidered, ruffled top to $34.99 for a floral dress.
It joins other ranges within the JCPenney girls' department, including The Original Arizona Jean Co, by&by, Nike and Levi's.
Generation Z consumers are those born between the mid-1990s and early 2000s, and are the first digitally native group to grow up not knowing a world before cellular phones, smartphones and other digital devices.
Building brands that resonate with them is proving a major challenge for retailers, although recent research notes product quality and active engagement are key.