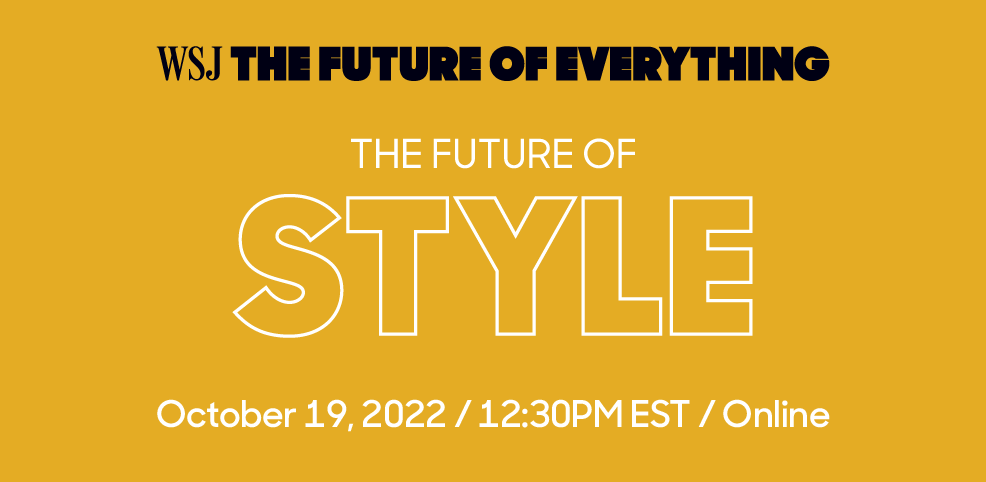 Just Style is the new media partner of The Wall Street Journal's free Future of Style event, which is taking place virtually on 19 October at 12:30-14:00 (ET) and will include industry veterans talking about how global events such as the Russia-Ukraine war and technological innovations such as the metaverse are impacting the fashion industry.
The event will also discuss how legacy brands are thinking about inclusivity and the impact of AR and VR on the way clothing and accessories are designed, marketed and sold.
Registration for the event is open now and it is completely free.
What to expect from the Wall Street Journal's Future of Style event
The event will start with a sponsor welcome from The Wall Street Journal's deputy editor of live journalism, Katherine Finnerty and this will be followed by a sponsored session titled: 'When Fashion Meets Science,' which will be hosted by Dow Industrial Solutions and Dow Jones.
The Wall Street Journal's editorial team will host a number of sessions, including:
Timeless Style in a Changing World featuring designer Norma Kamali and The Wall Street Journal's Ray Smith. This session will address how fashion can transcend the challenges of today and be relevant to an uncertain future.
Fashion in Times of crisis featuring Vogue Ukraine's Venya Brykalin, Dressx's Daria Shapovalova and Natalia Modenova and The Wall Street Journal's Rory Satran. This session will talk about the impact of the Russia-Ukraine war on the fashion industry as well as innovation and support during challenging times.
Defining Creative Direction featuring Be Good Studios' Lina Kutsovskaya and The Wall Street Journal's Rory Satran. This session will discuss the push towards a more digitally minded future.
The speakers taking part in the event include:
Vogue Ukraine fashion director – Venya Brykalin
Designer – Norma Kamali
Be Good Studios founder and creative director – Lina Kutsovskaya
Dressx founder and COO – Natalia Modenova
Dressx founder and CEO – Daria Shapovalova
Click here to find out more about the event and to register your interest in attending.