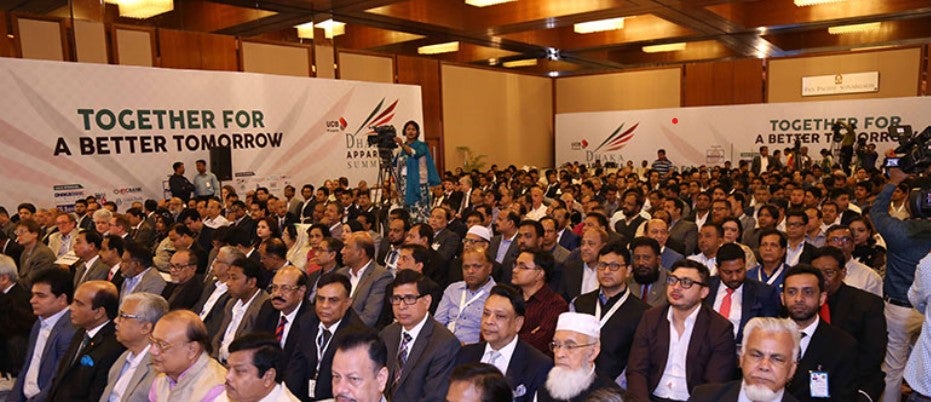 The panel, which is being held during Made in Bangladesh Week, is taking place at the Dhaka Apparel Summit in Dhaka, Bangladesh on 16 November, and is titled: 'Altering the chronicle of the Bangladesh RMG industry narrative'.
The session, which is being moderated by Shovon Islam (Shawn), Sparrow Group's managing director at 15.55-16.10 (BST) will explore the untapped opportunities that Bangladesh has to offer the world of apparel and fashion.
It will discuss the value propositions that Bangladesh can provide to the world-at-large and how Bangladesh can maintain its leadership in the apparel manufacturing sector in terms of transparency and responsibility.
The expert panel will include:
Laura Husband, Just Style's managing editor
Shahidullah Azim, BGMEA vice president
Maheen Khan, FDCB's president
Reaz Uddin Al Mamoon, Epyllion chairman
Mohammad A. Momen, IBA director
Farzanah Chowdhury, Green Delta CEO
HE Anne van Leeuwen, Embassy of Netherlands to Bangladesh ambassador
Dhaka Apparel Summit schedule at Made in Bangladesh Week
All of the sessions at the two-day Dhaka Apparel Summit (15-16 November) will explore the dawn of a new era in Bangladesh' apparel industry development and the strides that have been taken to meet environmental and sustainable targets so far as well as plans for the future.
The other Dhaka Apparel Summit sessions include:
RMG Sector Roadmap: Towards a transparent and prosperous future
Logistics infrastructure to take Bangladesh to the next level of economic growth
From global to local value chains – strategic alliance and collaborative capacity building for a diversified industry
Co-creating sustainability – shared risks and rewards
Bangladesh's LDC graduation-impediments and way forward
Responsible business needs global alliance on due diligence
Ensuring workers wellbeing
Technology and how it can shape the industry in the next 10 years – addressing skill gaps
Made in Bangladesh Week – the schedule
The Dhaka Apparel Summit is just one element of the wider Made in Bangladesh Week, which starts on 12 November and ends on 18 November. The week-long initiative is being organised by Bangladesh Garment Manufacturers & Exporters Association (BGMEA) in partnership with Bangladesh Apparel Exchange (BAE). It hopes to bring under one roof all the stakeholders of the Bangladesh apparel industry to initiate collaborations as well as discuss prospects and the roadmap for the future. In addition, the event hopes to work towards a collective promise of promoting sustainability and responsible business.
The BGMEA's president Faruque Hassan believes Made in Bangladesh Week will be a milestone for Bangladesh's apparel industry. He says: "It is a unique initiative to showcase the impressive stories of Bangladesh apparel industry as well as its continuous strive to pursue excellence. The Week alongside showcasing the strength of the country's apparel industry aims to identify future priorities and scopes of collaboration among the stakeholders to ensure Bangladesh remain a preferred destination for global apparel sourcing."
Mostafiz Uddin, founder & CEO of Bangladesh Apparel Exchange (BAE) and Bangladesh Denim Expo adds: "We are breaking new ground with this seminal event. With fashion sourcing teams and other executives facing constant demands on their time, we wanted to provide a series of physical shows, exhibitions, seminars, networking opportunities, factory tours and much more, all in one location over the course of a few days."
Saturday 12 November – Press conference
Sunday 13 November – Inauguration ceremony with Bangladesh's Prime Minister and IAF World Fashion Convention
Monday 14 November – Dhaka Apparel Expo & IAF World Fashion Convention
Tuesday 15 November – Bangladesh Denim Expo, Dhaka Apparel Summit, Dhaka Apparel Expo, IAF World Fashion Convention
Wednesday 16 November – Bangladesh Denim Expo, Dhaka Apparel Summit, Dhaka Apparel Expo, IAF World Fashion Convention, Sustainable Design and Innovation Award, Made in Bangladesh Photography Award, Fashion Innovation Runway Show
Thursday 17 November – Green Factory Tour, Factory, Fashion and Heritage Exhibition, The Sustainability Leadership (TSL) Award,
Friday 18 November – Technical Workshop on Sustainability and Innovation, Global Launch of BGMEA Innovation Center
More information about Made in Bangladesh and the official schedule can be found here.