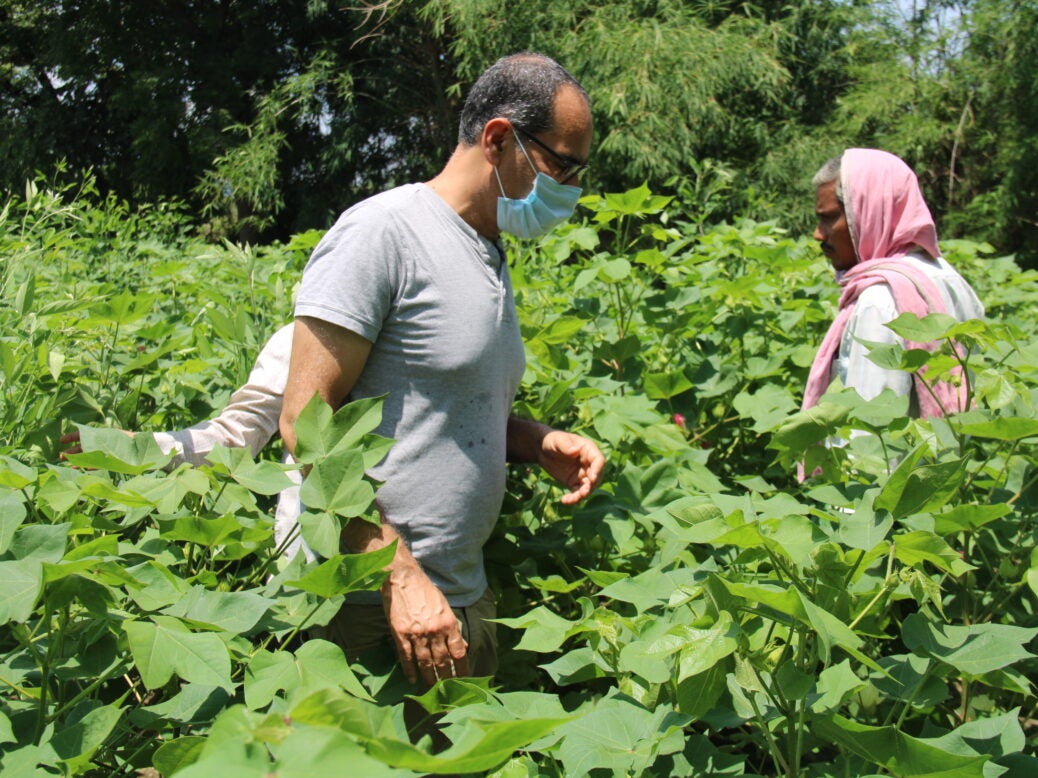 Gallant International, an LA-based company and its factory partners, have worked with organic cotton co-op Chetna Organic on the project which has seen more than 3,500 acres of land Regenerative Organic Certified (ROC), making it one of the largest ROC projects in cotton globally.
Regenerative Organic Certified (ROC) is a relatively new certification spearheaded by the Regenerative Organic Alliance, a California-based non-profit founded by US outdoor clothing giant Patagonia, Dr Bronner's, and the Rodale Institute.
Launched in 2018, the certification programme requires farming communities to meet a variety of criteria that prioritise soil health, animal welfare, and the social well-being of farmers and farm workers. Regenerative practices on the farm include intercropping, encouraging biodiversity, using organic inputs (ideally from within the farm's ecosystem), little or no tilling, and crop rotation to keep soils covered year-round. In addition, the farming systems are certified to be fair-trade. Following these practices leads to the increase of organic matter in the soil and improves overall soil health while providing fair and just working conditions for farmers and workers.
With the new certification, Gallant and its partners hope to spark a transformation in how organic cotton is farmed across the subcontinent, and bring more scrutiny to a supply chain it says is growing in demand annually yet lacking in true transparency.
"We've been using organic cotton for nearly a decade, and we're just so thrilled to take it a step further with this certification. Now farmers will not only be participating in the most regenerative practices possible, they will be playing a major role in healing the planet—while making extra income from organic, fairtrade premiums and rotational crops. This certification is much more than just a checklist. We're working to create a more holistic supply chain that takes care of everyone involved, not just the buyer," says Vikrant Giri, founder of Gallant International, and its sister company, Terra Thread.
A California-based B Corp, Gallant works with businesses and non-profits to produce customised, branded apparel, bags and accessories made entirely from organic cotton with fairtrade practices. It has been working alongside its factory partners and Chetna Organic, one of India's organic cotton co-ops, to manufacture organic cotton bags and accessories.
Chetna is known for its pioneering organic cotton farming practices, and its efforts across India to make cotton production more eco-friendly, traceable, and worthwhile for growers.
"With climate change a reality, both agriculture lands and forest covers shrinking, experts world over are advocating for agroecological and regenerative agricultural practices," says Arun Ambatipudi, executive director of Chetna, a 100% farmer-owned organisation. "For us, it's imperative to promote a more holistic approach to farming, especially amongst its smallholder cotton farming communities living in the forest corridors."
R Nanda Kumar, CEO of Chetna, adds: "India grows much of the world's cotton but sadly with chemicals, pesticides and GMO seeds. We would like to change that by writing a new narrative for the cotton in the country by not only being organic and fairtrade but also with regenerative practices."
In 2022, Gallant will be offering woven shirts, knitwear, bags and accessories made with ROC cotton. In addition, it says Terra Thread will become the first of its kind, using exclusively Regenerative Organic Certified cotton, and thus the first bag brand in the world specialising in ROC cotton.
Elizabeth Whitlow, executive director of ROA, says: "Gallant emulates the best of the ROC programmee. The aspirational principles encoded in our standard are perfectly expressed by Vik, Gallant and his team. They have become allies and advocates for the farmers they are sourcing from and clearly demonstrated that they are on the regenerative journey with the hardworking humans in these communities. As I've come to know them, it is apparent that such principles are deeply intrinsic to who they are as people and as a brand."
Giri adds: "To build a completely traceable supply chain, and that we are committed to regenerative organic practices is crucial for us to show that fashion can benefit, not harm, the planet. That's why we embarked on this process and are keen to see how we can expand it across farming communities in India."