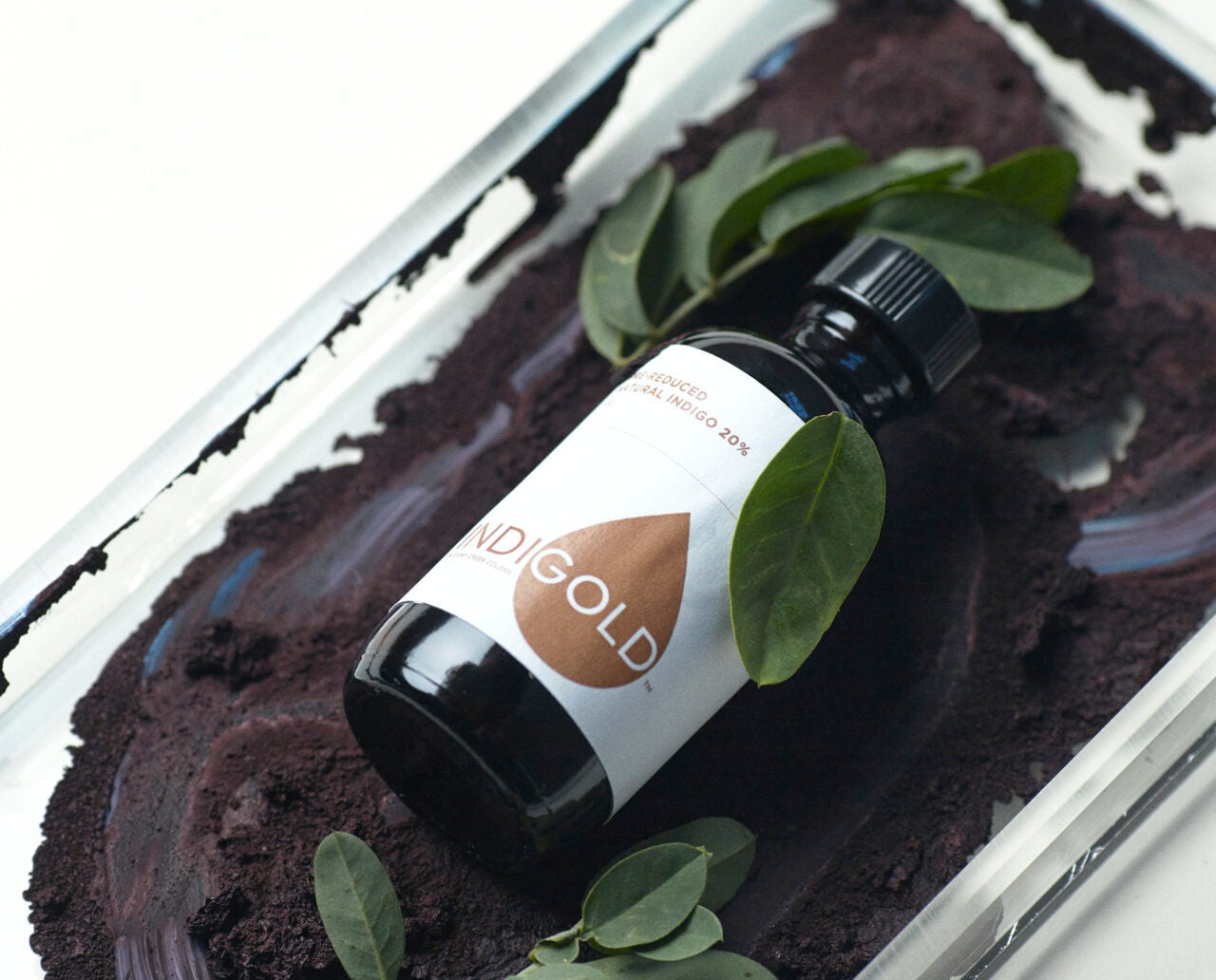 The collaboration between Fashion for Good, Levi Strauss, and Stony Creek Colors will see the latter's pre-reduced IndiGold plant-based indigo dye provided to select denim mills used by its partners to run performance trials with different denim dyeing systems for the first time.
The aim is to unlock key learnings around shade application and other efficiencies, with garments dyed with Stony Creek Colors' IndiGold dye on the market by late 2022 and early 2023.
Founded in 2012 and based in Springfield, Tennessee, Stony Creek Colors produces high purity natural indigo – a plant-based blue dye that can meet the growing global demand for natural colorants in fabric and food.
IndiGold replaces petroleum-derived synthetic indigo with plant-based inputs and can be integrated into an indigo pre-reduction system by using hydrogen as the reduction agent, thereby eliminating harmful byproducts from both the pre-reduction and the dyeing process.
In addition, Fashion for Good explains the liquid dye allows for more efficient use of raw materials, including indigo and supporting chemistry, and, because it is pre-reduced, makes it possible for more mills to use it with more consistent dye results. This can help achieve better, first-quality fabrics that require less water and energy in the process, it says.
Fashion for Good, which has an equity stake in Stony Creek Colors, will oversee the project.
"The textile industry must move towards safer, renewable and regenerative inputs. Stony Creek Color's innovation is driving this change and we are excited to be working closely with them and our partners to bring this to market," says Katrin Ley, managing director of Fashion for Good.
Sarah Bellos, CEO and founder of Stony Creek Colors, adds: "Customers and brands want clean, safe processes and fabrics. Awareness of a changing climate requires us to act boldly with scalable, plant-based alternatives. IndiGold brings Stony Creek Colors' proven, climate-positive indigo dye into a new, liquid form that allows for radical ease of use and efficiency in dyeing at denim mills while reducing the chemistries that can lead to pollution in the denim dyeing process."
Stony Creek Colors grows its indigo on partner farms in the US, helping farmers shift their operations to a new, soil-enriching crop. Through its work on plant genetics and breeding, it is also investigating other potential agricultural benefits of the crop.
Fashion for Good partner Levi Strauss & Co brings its experience, technical know-how and insights into the production of high-quality denim products to the project.
"Our previous work with Stony Creek has shown the great potential of plant-based dyes. This is a great opportunity to expand that work and more fully realise the potential of this innovation," says Jeffrey Hogue, chief sustainability officer of Levi Strauss & Co, which has already collaborated with Stony Creek Colors for multiple seasons of its Wellthread line.
Stony Creek Colors raised over US$9m in a financing round earlier this year to help scale its operations and expand its natural indigo dye to more denim mills.