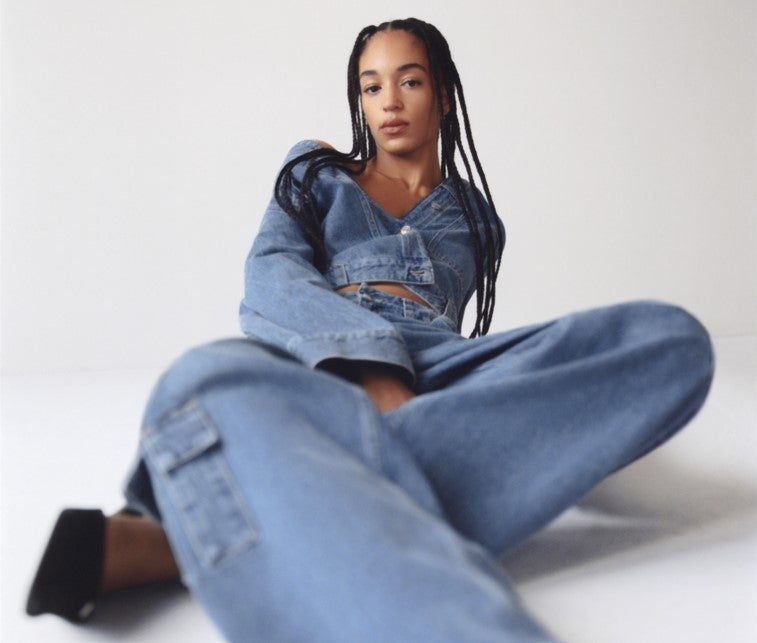 It is the first capsule collection launched by Mango as part of its new sustainability strategy, which aims to incorporate circularity in its design so that by 2030 such criteria will predominate in the design of its products and 100% of fibres will be of sustainable origin or recycled.
To minimise waste during product development, the garments were also designed using 3D digital design technology, keeping the number of samples required to the minimum.
In the next few years Mango aims to increase design circularity in its products, either by producing garments that are easier to recycle (bearing in mind their composition or construction), committing to durability or using designs that produce less textile waste.
Mango's circular design strategy establishes three policies in order to help close the loop: Give it back to the loop aims to create garments with a simpler design, with a single type of fabric or fewer accessories, in order to achieve greater recyclability; extended life, commits to designing more durable garments by selecting materials with physical properties that have been certified by AITEX, reinforced garment construction and timeless design; and no waste is focused on optimising the materials used and the reincorporation of textile waste.
The new collection, in capsule format, includes various Mango Woman garments in denim, such as jackets, gilets, trousers, skirts and jumpsuits, in indigo and black, some with dirty washes, in on-trend silhouettes influenced by the 2000s.
Mango has manufactured the garments in this collection minimising its environmental impact in aspects such as the use of chemicals and water, and inside the garments there is a diagram explaining circular design to its customers, thus reducing the production of paper labels.
Earlier this month, Mango published its list of tier 3 factories related to suppliers of fabrics and fittings, the first major fashion company in Spain to do so. The full list at the close of 2022, with data on the factory name, address, number of employees and type of product, has been drafted in accordance with the requirements of the Transparency Pledge Standard, an initiative launched by a coalition of nine employment and human rights organisations committed to transparency in clothing and footwear supply chains.