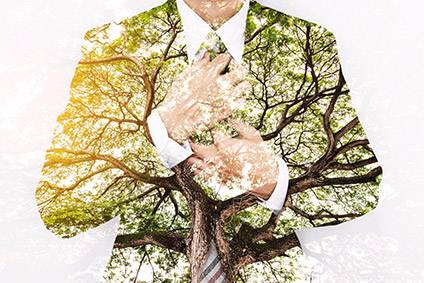 Finnish fashion brand Marimekko has partnered with Finnish sustainable textile material company Spinnova to launch a collection containing what it claims is the first ever commercially available printed products made using Spinnova fibre.
The collection is said to be a step toward Marimekko's ambition that in the future, sustainable products will be made in balance with the environment, in line with the principles of the circular economy. The capsule includes a denim-inspired smart utility overshirt, a pair of trousers and a tote bag.
The denim-like material blend consists of approximately 20% Spinnova fibre. The rest of the blend is cotton, of which about 70% is organic cotton. Spinnova's innovative textile fibre is made of certified wood sourced from responsibly managed forests and is fully recyclable.
According to a study by Spinnova, the production of Spinnova fibre consumes approximately 99.9% less water in comparison to conventional cotton. The company says it uses zero harmful chemicals in the production of its fibre.
"What has motivated us both throughout this journey is the shared desire to address the environmental impacts of the fashion and textile industry. The new capsule is one step towards our goals. It was a natural choice to partner with Spinnova thanks to its sustainability potential, and partnerships with the likes of Spinnova play a vital role in achieving our ambitious sustainability goals as a company," says Suvi-Elina Enqvist, head of innovation works at Marimekko.
Marimekko and Spinnova have been collaborating on testing, developing, and commercializing new textiles made of Spinnova fibre since 2017. In February 2020, the brands presented two prototype outfits along with the aspiration to introduce commercially viable product by 2022. The collaboration was recognised as a finalist in the sustainability category in Fast Company's 2020 Innovation by Design Awards.
Marimekko made with Spinnova capsule collection is available in selected markets from this week.
Earlier this month, Marimekko Group said it was preparing to launch a pre-owned apparel platform.