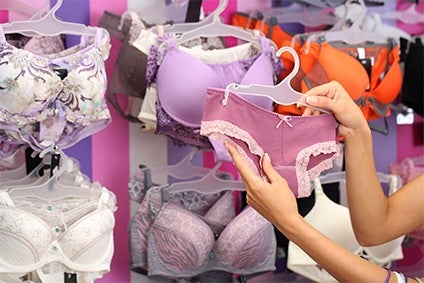 Growth within the otherwise mature $7.2bn US bra category is being fuelled by millennials' desire for comfort, boomers' spending power, and their common attraction to pure-play e-commerce retailers, according to new research.
Representing the largest share of the US women's intimate apparel market, millennials captured more than a third of dollar sales in both 2017 and 2018. Sales among baby boomers accounted for 17% of the intimate market, but showed the most growth of all generations, up 6% compared to 2017.
"Millennials and boomers are two groups of consumers critical to any industry's success, and the role they are each playing in the bra category demonstrates the importance of multi-target marketing," says Marshal Cohen, chief industry advisor at The NPD Group, which conducted the research.
Around 40% of millennials indicated that the majority of their closet consists of what they call "comfort wear," as seen in NPD's Trend Tracker report, 'The Millennial Mirror-Comfort Wear,' which was published in partnership with Stylitics. Given this focus, it's not surprising that a third of millennial bra dollars in 2018 were spent on sports bras. Overall, sales of sports bras continue to grow, contributing $139m to the apparel industry over the past three years.
Sales of items priced between $65 and $74.99 contributed the most dollar gains to the category in 2018, to the tune of $131m, despite being a relatively small share of the bra market. The next largest dollar gain came from the $75 and up price point. Sales of items in this upper price range are supported by the discretionary spending of boomers.
Despite their differences, millennial and boomer bra consumers are both drawn to pure-play e-commerce retailers – which are among the more popular bra shopping destinations for both generations. Just as online has grown to capture a quarter of bra sales, pure-plays are a growing part of the online intimate apparel space – up 4% in 2018 to more than 8% of the total market dollar sales.
"Reaching bra consumers, of any age, with targeted messaging and style offerings that have an eye on comfort at all prices is what will differentiate the top players," Cohen adds.
"Innovative marketing approaches in the designer bra space, and the value and convenience provided by pure-play e-commerce are sources of new growth opportunities in this mature market."