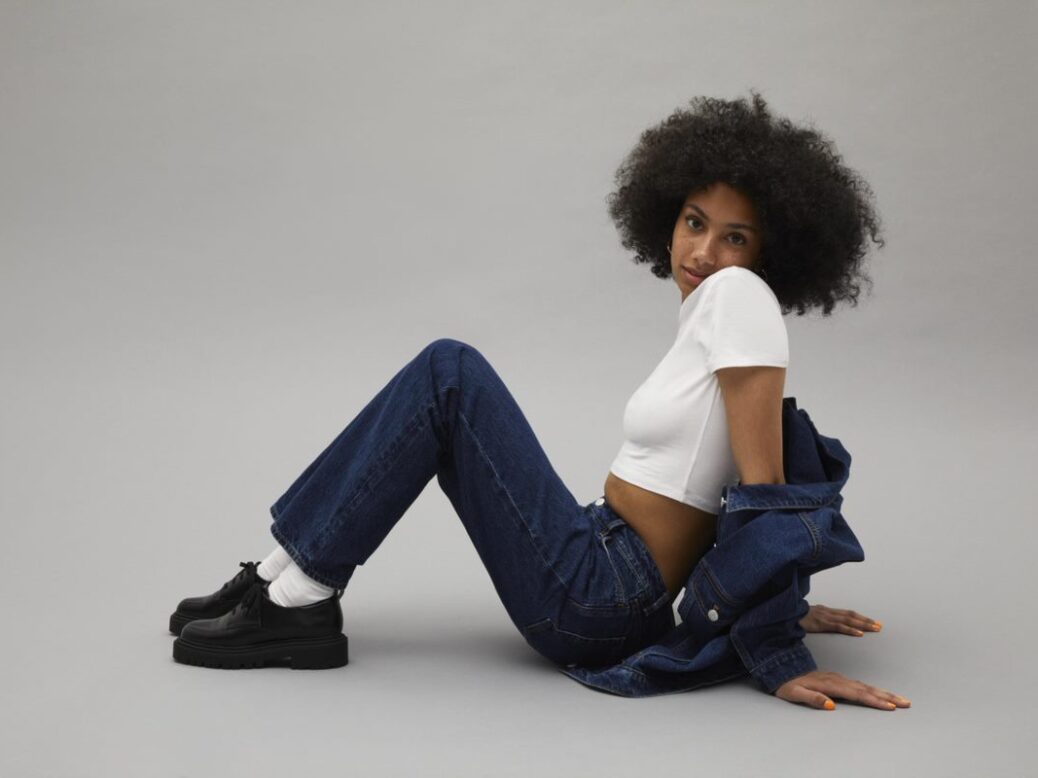 For Monki's first The Jeans Redesign collection, the brand has launched three favourite jeans fits – the high waist wide leg Yoko, slim leg Monokomi, ankle length tapered leg Taiki – and a classic jacket.
To ensure durability and longevity, the garments are made from a more sustainably sourced mix of 20% post-consumer waste cotton and 80% in-conversion cotton, and include bar tacks instead of classic rivets and aluminium buttons that require no electroplating.
Meanwhile, traditional polyester thread is replaced with EcoVero thread which is a mix of recycled polyester and more sustainably sourced cotton, and the pocket bags are crafted from 100% organic cotton instead of a cotton and polyester mix, making the garments 100% cellulosic and more easily recyclable.

"We've looked into every detail and aspect of each garment in accordance with the Ellen MacArthur Foundation's The Jeans Redesign guidelines. This is just the beginning of our journey with the Ellen MacArthur Foundation towards H&M Group's ambition to design all products for circularity by 2025," says Caroline Carlryd, head of design at Monki.
According to the Ellen MacArthur Foundation, a non-profit organisation working towards a transition to a circular economy, its vision of a circular fashion industry is that products are designed to be used more, made to be made again, and made from safe and recycled or renewable inputs.
Launched by the Foundation's fashion initiative in 2019, The Jeans Redesign acts as a framework for companies across the industry to start designing with circular economy principles, and to work collaboratively and learn from each other. The guidelines, created with input from industry experts, set a minimum bar for circular denim and jeans, including guidance on recycled content, safe chemistry, material sourcing, and recyclability.

Monki's jeans collection designed with circular principles is available online and in selected stores from early August.
Earlier this year, M&S unveiled its first capsule collection as part of The Jeans Redesign, with the range responsibly sourced to meet the project's guidelines.