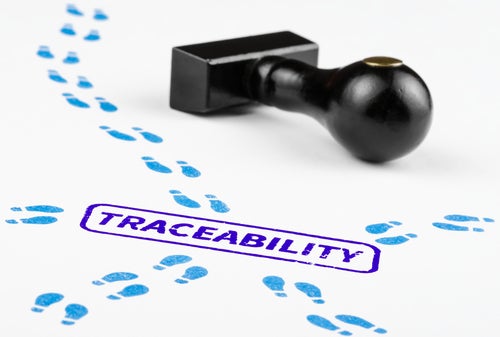 The joint study on sustainability, traceability and transparency within the Apparel supply chain called 'Moving the needle – Threading a sustainable future for apparel' asked over 200 senior executives in August 2021 to share their sustainable practices.
The study found two-thirds (66%) of apparel industry insiders believe supply chain transparency is an 'extremely important' issue, while 80% aim to implement transparent solutions by 2027. However, only a fifth (20%) of the respondents have a comprehensive overview of all stakeholders in their supply chain (visibility) and just 15% currently have full traceability within their supply chain.
Peter Liddell, KPMG partner, Global Leader Operations Centre of Excellence (Supply Chain, Procurement, Operations Excellence) pointed out: "Executives have had transparency on their radar for a long time, but there is still a big gap between strategic intent and achieving tangible outcomes."
He added: "Companies must become connected organisations and align every functional process, related data and systems, and relationship in the business towards the achievement of sustainable growth. If stakeholders are not aligned to enterprise-wide transparency goals, a wrong decision or misguided action could undo all the goodwill that an organisation has created."
The three key factors that are encouraging apparel companies to address transparency, according to the report are:
Corporate reputation: Over half (52%) of suppliers and 59% of retailers/brands considered enhancing their corporate reputation as the main reason to boost their supply chain transparency.
Business opportunities: Now more than ever, suppliers are motivated to improve supply chain transparency as part of their business goals, as this may allow them to tap into business opportunities with brands and retailers that are positioning themselves as sustainable or complying with stricter regulations.
Profitability: Companies are looking to improve operational excellence to lower costs and preserve margins. Research indicates businesses with higher sustainability scores have a lower cost of capital. A sustainable apparel business can expect to have an average increase in net profit of 1-1.5% for brands and 1.5-2.5% for suppliers.
The respondents of the survey, which took place ahead of COP26, represented a mixture of brands, retailers, suppliers, manufacturers and sourcing agents of varying sizes. The study also included in-depth interviews with executives at apparel brands, manufacturers, associations and solution providers. It was conducted by audit, tax and advisory service company KPMG China and business network platform Serai.
Anson Bailey, head of consumer and retail, ASPAC at KPMG China said: "Walking the talk on sustainability issues is something that apparel companies can no longer afford to ignore. Consumers nowadays have so much more information on the sustainability credentials of products, as well as the companies behind them and their impact on the wider community."
He added: "The COP26 climate summit has highlighted the need for the industry to change. Greater transparency means that brands will be held accountable, however it also opens up opportunities to better manage inventories, introduce more agility and achieve greater collaboration across the entire supply chain."
The report explained that supply chain transparency is a cornerstone of the apparel industry's efforts to become more sustainable, however five considerations should be taken into account:
1. Internal alignment  
Aligning a company's internal vision, definition and direction on transparency within the corporate strategy is the first step to achieving genuine transparency. Gaining acceptance and cross-functional alignment of the company's strategic
transparency goals, including a general approach and timeframe, is critical.
2. Implementation framework 
Once a company's overall vision for transparency has been defined, a strategic framework to implement transparency needs to be designed.
3. Build a fact-based supply chain 
Companies should start by gathering information that will illustrate the origins and network flows of all materials, highlight their supply chain trading partners and how they work together.
4. Data collection and consolidation 
The gap between strategic intent and achieving tangible transparency outcomes is driven to a large extent by a lack of access to quality and consistent data.
5. Data analysis and risk management 
Once data is consolidated, companies should have the information they need to generate actionable insights.
Challenges for achieving full transparency across supply chains
The capacity of the apparel industry to ensure supply chain transparency remains low, according to the report. The biggest barrier holding back the industry from achieving transparency is high initial investment. Difficulties in obtaining and managing data from other companies in the supply chain is another major obstacle.
Two-thirds of industry respondents (65%) were willing to disclose their supply chain traceability policy and this proportion was much higher for suppliers in North America (80%) and Europe (81%). Suppliers in these regions are at a cost disadvantage to suppliers in Asia Pacific and may use their sustainability credentials to differentiate themselves from lower cost competition.
In contrast, only 14% of companies surveyed have fully automated transparency systems in place for visibility and 13% for traceability. Meanwhile, over half of all the respondents have manual processes in place for those two components – and the figure is higher for smaller and medium-sized businesses. With the increased demand for information from both consumers and regulators, there is an urgency for the industry to upgrade infrastructure. The adoption of digital technologies will be key to capturing material flows across the supply chain and for the entire network to gain visibility.
The report explained that investment in transparency tools will be crucial for apparel companies if they do not want to risk losing a competitive advantage. It suggests that to move forward, the industry will need to overcome challenges associated with the consistency and quality of data.