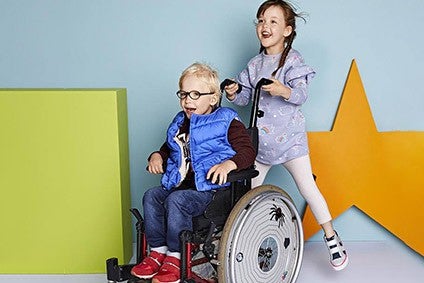 UK fashion and homeware retailer Marks & Spencer is shaking up its kidswear range as part of efforts to broaden its apparel and grow its share of the childrenswear market.
The company – which claims to be the nation's biggest clothing retailer – is reducing its reliance on formalwear such as party dresses and suits and will instead focus on "colourful and casual clothing."
It is also removing the Autograph sub-brand from kidswear in response to declining sales over the past few years.
It will instead offer a wider range of casualwear products such as tees, sweatshirts and leggings "backed with bigger buys." M&S kids' leggings sales have increased 20-fold, it says, with the retailer now selling 25,000 pairs a month.
In another change, 3-for-2 deals will be available all year, meaning a customer can purchase three GBP6 (US$7.8) cotton dresses for just GBP12 (GBP4 each). M&S has also increased items in the offer from 60 to nearly 200 – products start from as little as GBP2.50 for cotton leggings with stretch. The cotton items that are in the 3-for-2 deal are all made from 100% more sustainably-sourced cotton.
The range will feature new age breaks to offer a more tailored product for younger and older children. The categories will now be split into baby (0-3 years), younger kids (2-7 years) and older kids (6-16 years).
M&S says the move to become "a little less special occasion and more everyday style" is part of its plan to broaden its appeal to busy family customers and grow market share in kidswear.
"M&S Kids is changing to broaden its appeal to more family shoppers," says Jill Stanton, M&S director of kidswear. "We know we have parents shopping schoolwear, with 1 in 4 kids wearing an M&S uniform, but our wider kids offer has been a bit too formal and not for everyday fun. Our new range is about being more playful – with fantastic fun prints, vibrant colours and the hard-wearing features that make them fit for play time and fit to last."
M&S has struggled in recent months to grow sales in its clothing and home business and CEO Steve Rowe has been vocal about needing to move faster to address "long-standing issues" in its clothing supply chain around the availability and flow of product.
It has been trying to reinvent itself for more than a decade, with the current five-year "restoring the basics" turnaround plan seeing more than 100 store closures by 2022, and a focus on better planning and stock visibility, removing outdated product lines, improving logistics, and upgrading its online visibility. Critics have blamed an overload of brands for making its offer too confusing and say it no longer resonates with the core customer base.
Earlier this month the retailer revealed sales plunged in its third quarter.
Last year it announced a similar reshaping of its two sub-brands – Per Una and Autograph – aimed at focusing on where it can offer a point of difference for its customers.
Clive Black, analyst at Shore Capital comments on the latest move: "The extensive array of change outlined above does appear to represent new and better thinking about Kidswear by M&S, consistent with the key transformation aim to be more relevant to the younger shopper and consumer. As such we are encouraged to see the activity, representing as it does, another line crossed out in the extensive M&S to do list being addressed.
"That all said, the proof of the pudding remains in the eating and only effective seasons and in-store execution on an ongoing basis will tell if M&S does indeed build its UK childrenswear market share and maybe also contribute to a better ongoing Clothing sales performance."