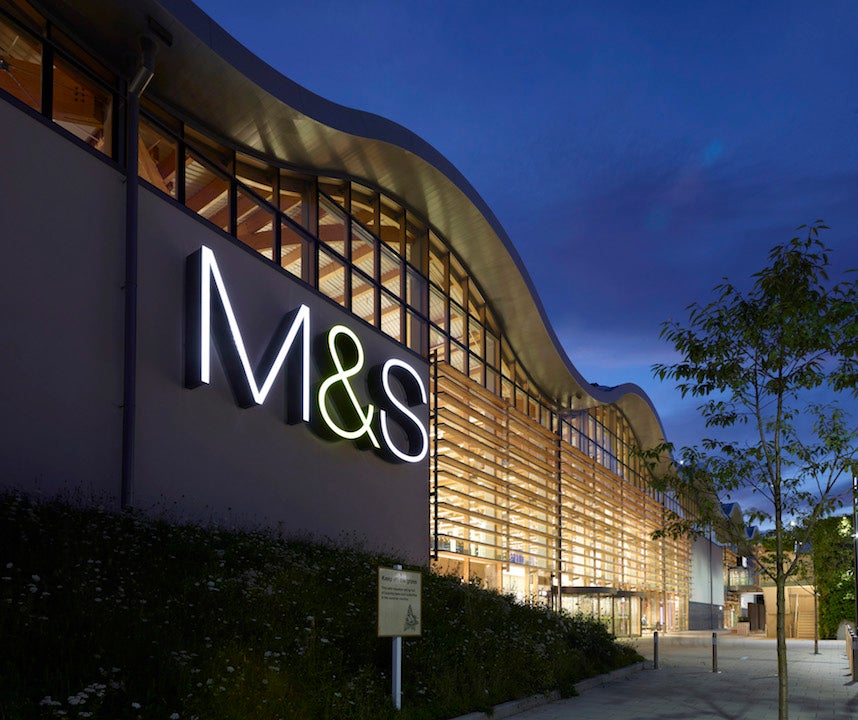 Reporting its half-year trading update, M&S said its transformation and 'Covid bounce back' has driven strong performance in the 26 weeks to 2 October.
The retailer cited a substantial improvement in profitability in its clothing and home business, with sales down by 1% compared with 2019/20 despite lockdown extending into week one of the period.
It added sales grew in the second quarter, with overall full-price sales up 17.3% for the period. Operating profit before adjusting items was GBP156.2m (US$210.9m) as compared to GBP109.6m in 2019/20.
M&S' MS2 division delivered strong online growth, with sales up 60.8% versus 2019/20 and 19.7% compared with last year. The business has been onboarding third-party brands in recent months under its 'Brands at M&S' which aims to turbocharge online growth.
Online market share increased 1.1 percentage points compared to 2019/20 in the 12 weeks to 19 September. Online sales represented 34% of clothing and home sales in the period, marking progress toward its target of over 40%. Online active customers have increased by 60% over two years to 9.6m and retention rates are higher than before the pandemic, creating an expanded opportunity for growth, M&S noted.
Store sales, meanwhile, declined 17.6% compared with 2019/20. The 'legacy' store base meant that the business remained impacted by the weakness of city centre and high street trade, the retailer explained. Stores on retail parks were level on 2019/20, while those in city centres declined by 32.1%. Nevertheless, store market share was up 0.8 percentage points in the 12 weeks to 19 September.
Re-engineering of the clothing and home product engine
M&S added the re-engineering of its clothing and home operating model is now "demonstrating its potential to reverse years of decline in the business."
It pointed to more focused category management which it said has enabled total option count to be reduced by around one quarter compared with three years ago, resulting in substantially improved line-item rate of sale. For instance, in its 'hero' category of women's denim, sales per option are up 56% on 2019/20 from 29% fewer options, it added.
In addition, more than 1,300 colleagues have been trained in efficient buying and merchandising in the 'Never the Same Again academy'. Combined with a test and repeat programme and new tools to accurately rank and plan product, this is having a positive impact on product appeal and finish.
Alongside the reduction in duplication and creation of a more focused core range, M&S has broadened choice in growth areas such as activewear, kids' daywear and home.       For instance, it said the Goodmove activewear brand has seen very rapid growth since its launch prior to the pandemic and its girls' daywear market share has grown by 160 basis points.
Nine weeks have also been taken out of the womenswear 'critical path' resulting in orders being placed closer to the date of sale, speeding up the supply chain. This has helped support the business which has traded with three weeks less stock compared with 2019/20.
The combination of these changes has also enabled a significant shift towards 'every day low prices', with the intensive promotions of the past removed and only partially replaced by personalised discounts through Sparks. Overall, the volume of stock into the clearance sale has reduced by over 50%.
M&S added the overall performance in the first half remained skewed towards more casual categories. However, since the return to offices in September, performance in formal categories has improved with suits up 3% on 2019/20 and trousers up 8.7% in the month.
"Given the history of M&S we've been clear that we won't overclaim our progress. Unpacking the numbers isn't a linear exercise and we've called out the Covid bounce back tailwinds, as well as the headwinds from the pandemic, supply chain and Brexit, some of which will continue into next year. But, thanks to the hard work of our colleagues, it is clear that underlying performance is improving, with our main businesses making important gains in market share and customer perception. The hard yards of driving long term change are beginning to be borne out in our performance," chief executive Steve Rowe said.
Outlook
In the near term, M&S said it expects the strong demand relating both to the bounce back and improved customer perception to be sustained in the second half.
It noted, however, well-publicised supply chain pressure, combined with pandemic supply interruptions, rising labour costs, EU border challenges and tax increases means the cost incline becomes steeper in the second half and steeper again in the 2022/23 year.
"That will increase the importance of our productivity plans, store rotation and technology investment," it added.
"Taking these factors into account and assuming there is no further acute pandemic related disruption, our central case is for profit before tax and adjusting items for the year to be ahead of expectations and in the region of GBP500m."
"As we enter the new phase, we expect to bring forward our plans for continued far-reaching changes in the shape of the business.  Financially, our objectives over the next three years remain progressive growth in sales, market share and profit in food, clothing and home online sales to exceed 40% of total sales, and delivering an overall clothing and home profit margin in excess of 2019/20 levels."
M&S will report trading for the third quarter on 13 January 2022.
Profound changes
Clive Black, director, head of research at Shore Capital, notes progress at M&S is pretty much across the board, highlighting the virtue of a change in momentum.
"In clothing and home, the job of positive transformation remains much more challenging than is the case for food at M&S and critically it has the greatest potential to structurally adjust the financial output of the M&S Group. We have, however, been more impressed by what we have seen in-store in the past six months than has been the case for some time.
"Clothing and home was behind food in its transformation and so more work remains to be undertaken around product, linking into the Sparks loyalty programme, online progress (MS2) and international opportunities."
Black adds a greater family orientation, if sustained, should protect revenue generation, and notes the changes in M&S clothing and home are "quite profound" and augur well for the future.
He also points to the group benefiting from some capacity exit from the high street in the UK, perhaps most notably Debenhams, and from its selective work with third-party brands, which commenced with Nobody's Child.
"Since then, several clothing and footwear brands have come into the M&S online ecosystem in particular to what we deem to be beneficial effect. We should add our
view that if shoppers had not seen the benefits in-store and online around the M&S assortment, it is highly unlikely that they would have found the complementary labels that now feature. No doubt brands will come in and leave the M&S online offer – with some in-store too (Sea Salt is in Cheshire Oaks) – and we would not rule out selective investment and acquisition opportunities too, such as Jaeger, which the group acquired for GBP6m and we believe can be a label within the group that yields GBP100m-plus of sales in time.
"Again, ahead of the very important festive period, so Q3 FY22 in its entirety, we are nervous about being too bold in our clothing and home projections given prevailing Coronavirus fragility, volatility and so uncertainty (42/49 M&S stores in Russia are currently closed). That said, we are pleased with H1 progress and updated group guidance, and we look forward to firming up FY22 expectations following the New Year trading statement."