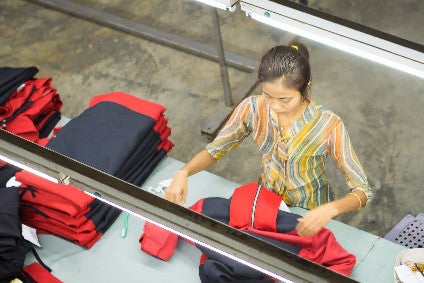 The Myanmar Government has approved a 33% increase in the country's minimum wage rate across all regions following a period of consultation and despite objections from labour groups and employers.
In January, the National Tripartite Committee on the Minimum Wage proposed an increase in the rate to MMK4,800 (US$3.53) per day, from MMK3,600 currently. It will be applied from this month across all regions and states to all businesses with ten or more workers.
Employer representatives have claimed the rate increase is too high, while labour representatives say it is too low.
SMART Myanmar – an EU-funded initiative aimed at promoting 'Made in Myanmar' garments and sustainable practices – says the increase is on the lower end of the range anticipated by industry analysts and observers.
"It is much lower than the 55% increase advocated by several unions," the industry body said earlier this year. "Nevertheless, factory owners consider a 33% increase difficult to bear. Myanmar law requires 200% wage rates for overtime hours, which is a higher percentage than any other country in Southeast Asia."
According to local reports, the committee received 4,092 complaints, showing that most of the labourers wanted an average minimum wage of MMK5,600, while the employers were not willing to pay above MMK4,000.
Region and state committees held a series of discussions with employers and labourers, and it is understood the decision was made after the fifth meeting, held yesterday (5 March).
Research carried out by the International Labour Organization (ILO) into the Asia-Pacific Garment and Footwear Sector, published in November, found that while wages in developing Asia's garment and footwear industry have increased in recent years, they continue to remain low overall – particularly for women.
The ILO estimates that average earnings were less than US$200 per month in eight of the 12 countries with available data.
At the high end, nominal average wages in China and Thailand were $582 and $267, respectively. By contrast, nominal average wages for workers in the garment, textile and footwear sector were only about $100 a month in Cambodia, Lao People's Democratic Republic and Myanmar at the time of the most recent labour force surveys.