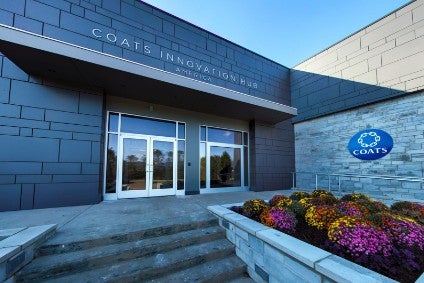 Coats says its new fibre-laying technology uses sustainable materials to create footwear composite materials for the next generation of high-performance supershoe.
Fibre-laying technology enables yarns to be precisely positioned in the required place and direction. This means the thickness, flexibility, torsion, and rigidity of each section of the footplate can be specifically created to ensure they support every part of the foot, Coats explains. This also helps address the constant challenge for developers of footwear to combine high performance with comfort.
Lattice Lite Eco eliminates the need for additional resin steps, such as prepreg or resin transfer moulding, which speeds up the manufacturing process and it also reduces material waste to 5%, from over 30% for more traditional composite operations. It can use a range of eco-friendly materials including recycled carbon, recycled nylon or materials from natural resources such as basalt and flax.
Adrian Elliott, president of apparel and footwear at Coats, notes the new Lattice Lite Eco technology enhances performance on multiple levels: the consumer wearing the end product and our customer who is able to create components faster, optimise manufacturing and reduce waste.
The technology was developed in the Coats Innovation Hub EMEA in Turkey. As well as footplates, Lattice Lite Eco can also be used in toe caps, torsion bars, heel counters, bindings and knuckle protection.
It creates components that are both lightweight and robust which enables products to go further, faster and stronger, Coats says.
Towards the end of last year, Coats said it is accelerating and amplifying its journey towards a sustainable future, announcing higher ambitions, in terms of scope, scale and speed, which focus on net zero and circularity.