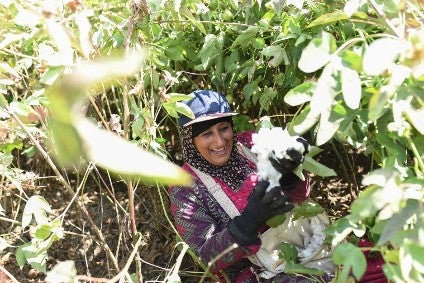 Cotton Egypt Association has announced a collaboration with the United Nations Industrial Development Organisation (UNIDO) in a bid to boost sustainability efforts and improve conditions for supply chain workers of the Egyptian Cotton brand.
The Egyptian Cotton Project will also see the partners cooperate on a pilot launch of the Better Cotton Initiative (BCI) for the first time in Egypt.
The global not-for-profit organisation is the largest cotton sustainability programme in the world, educating farmers and granting the BCI standard to those who meet rigorous levels of sustainable production and employee welfare.
The project will coordinate with a pool of stakeholders to implement the pilot BCI program for Egyptian Cotton, promoting the production of Egyptian cotton in a way that cares for the environment and the farmers who grow it.
Khaled Schuman, executive director of the Cotton Egypt Association said: "CEA is dedicated to creating a sustainable supply chain which supports the welfare of both the workers and the environment. The partnership with UNIDO to support the BCI pilot project is one of several initiatives we will be exploring in 2019, as we continue to bring the brand and the values of the world's finest cotton to meet the expectations of a modern consumer."
While Egyptian Cotton is predominantly used in home textiles, a spokesperson told just-style it is becoming "increasingly popular in apparel manufacturing with brands such as KOTN using only Egyptian Cotton".
The final destination of the cotton produced as part of this latest drive is yet to be confirmed but a number of clothing retailers have shown interest, confirmed the spokesperson.
The Egyptian Cotton brand has been on a course to recovery since 2011 when output fell drastically following political upheaval. It suffered another setback in 2016 when US department store retailer Target Corporation withdrew all luxury bed linen produced by India's Welspun Global Brands after non-Egyptian cotton was used in what were supposed to be 500-thread-count Egyptian cotton sheets and pillowcases.
Despite the hurdles, Egyptian Cotton is still widely recognised by consumers as a luxury brand. A recent US consumer survey also found Egyptian Cotton was the name most people associated with quality and were prepared to pay a premium for, ahead of Pima cotton, Turkish cotton and Supima.
Recent moves to restore the brand's reputation and improve confidence in it include the appointment of an official steering committee to safeguard its future and the introduction of a partnership with Bureau Veritas and a new rigorous accreditation process, which uses DNA testing to distinguish between genuine Egyptian Cotton and regular cotton.
Exports of Egyptian Cotton grew by 181.6% from December to February last year, and in August an investment of EGP24bn (US$1.3bn) for modernising Egypt's textile sector was announced.