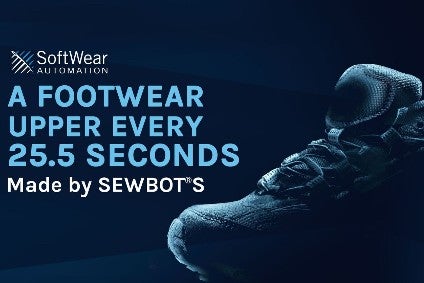 SoftWear Automation's vision of 'Sewbot' driven worklines and workcells continues to move closer to reality with a new product offering full automation for footwear uppers.
The Atlanta based company is taking global pre-orders for its Digital Footwear Upper Workline – which it says can produce a shoe upper 11 times faster than template sewing.
The workline combines patented Sewbot technology with Pick-Place-Sew automation and is engineered to construct a shoe with up to 12 overlays. In factory floor terms, a 3 overlay upper (with two logos and a laces overlay) can be manufactured every 26 seconds, the company says.
Among its other advantages, the vamps and overlays are placed and precision-stitched for top quality, so no adhesives are used; and no templates enables mass production of mixed runs.
Just one operator is required for four or more upper worklines, and is not subject to die cutter imperfections, size, style or most material changes. "Load in the vamps and overlays and sewn shoe uppers come out the other end," says SoftWear Automation.
With 70% of labour in the sewing and construction of the upper and 18 months from forecast to delivery, the worklines automate the most labor intensive part of a shoe and provide the cost and flexibility to produce goods anywhere in the world on demand.
SoftWear Automation's first fully automated T-shirt line is set to go into production in the US in 2019, and will be operated by Chinese manufacturing giant TianYuan Garment Company – the largest producer of apparel for Adidas worldwide – at its new facility in Little Rock, Arkansas. The worklines will produce 800,000 T-shirts a day.
CEO Palaniswamy 'Raj' Rajan told just-style the automated 'Sewbot' driven worklines and workcells can tackle a wide range of garment manufacturing challenges including the shortage of skilled labour in the US, the financial and environmental cost of transporting products and material over long-distances, and the increasing need for smaller production runs, more customisation and flexibility for design changes, faster turnaround times and reduced inventory requirements.
"Right now people move things around because labour is expensive. But with our line, that equation now changes," he noted.