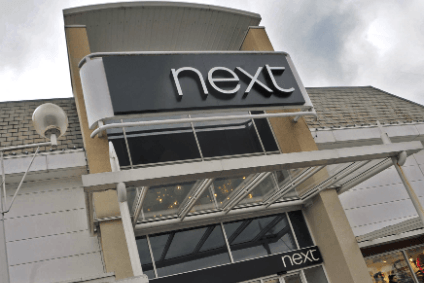 British fashion retailer Next Plc saw its shares rise more than 6% this-morning after reporting strong sales in the run-up to Christmas – but lower guidance suggests tough times ahead.
The company, which is one of the UK's largest retailers, trading from more than 500 stores in the UK and Ireland, and around 200 stores in 40 countries overseas, said strong sales in the three weeks prior to Christmas, along with a good half-term holiday week at the end of October, made up for "disappointing" sales in November.
The results also showed a continuing shift online, with online (including its Next Directory home shopping catalogue) sales surging 15.2% in the period from 28 October and 29 December compared with a year earlier, while store sales dropped 9.2%. In total, full-price sales were up 1.5% over the period.
For the full year, the retailer expects a profit of GBP723m (US$909m), 0.6% lower than its previous forecast of GBP727m. It blamed the lower forecast on higher sales of seasonal products, such as personalised gifts and beauty products, which have a lower margin than its clothing ranges. It was also hit by higher operational costs associated with the rise in online sales.
However, full price sales growth of 3.2% is also forecast for the year, in line with the guidance given in September.
Looking at the year ahead, Next anticipates full price sales growth of 1.7%, in line with the second half performance of the current financial year – with retail sales seen down 8.5% and online sales to up 11%. Group profit before tax is seen slipping 1.1% year-on-year to GBP715m.
Ongoing shift online
Analysts broadly agree Next's dip in high street sales are in-line with expectations as the battle between the high street and ecommerce wages on.
"The ongoing shift towards online, fiercer competitor dynamics and softer consumer confidence have damaged in-store sales. This will likely set the tone for other retailers with a large physical footprint," notes Richard Lim, chief executive at research consultancy Retail Economics.
"Overall, in context of a heavily-discount driven environment, retailers' profitability will remain under intense pressure as profit margins are squeezed further. For many, rising fixed costs associated with running large store portfolios will inhibit investment in the 'experience' needed to attract sustainable levels of footfall. Simultaneously, as the balance of sales continues to migrate online, the accompanying rise in variable costs will put pressure on traditional business models."
Likewise, Lee Lucas, principal of London's Fashion Retail Academy, notes "Shopping habits might be changing but the fashion world is putting up a fight, with online sales more than making up for any decline at bricks and mortar stores.
"This compensating trend also appears to be strengthening year-on-year with even stronger figures than 2017 when cold weather was credited with boosting online sales.
"A last-minute spending spree at both Next and John Lewis this year might be partly due to milder weather but the thousands of people queuing and camping out from the early hours of Boxing Day just waiting for Next to open its doors is a promising sign there's a final festive gift in store for retailers."
Meanwhile, Manu Tyagi, associate partner, retail and consumer goods at Infosys Consulting, suggests that while Next is reporting a rise in online sales, "the outlook for ecommerce isn't looking as bright as we'd expect. Just last month, Asos – one of the biggest online-only fashion retailers – issued a profit warning.
"Evidently, the overall consumer sentiment is cautious, perhaps due to the worries about the economy and the looming Brexit situation, which has and will continue to impact consumer shopping habits.
"As a silver lining, we're seeing retailers come back fighting with newer stores and aggressive promotions to lure back the shoppers. John Lewis for instance had a record Black Friday sales and increased year on year sales during the Christmas week. Indeed, the UK high street remains far from dead – and physical sales are still many times more than online sales.
"While the numbers might hint at the demise of the UK high street, it's important to not take them at face value. Brick-and-mortar shopping is in the middle of a reinvention, whereby the fittest, who are adapting to the new consumer preferences, will survive and thrive. Those that fail to adapt will risk being left behind as we enter a new age of commerce."